Catching Up With Customers: Roebuck Buildings Co., Inc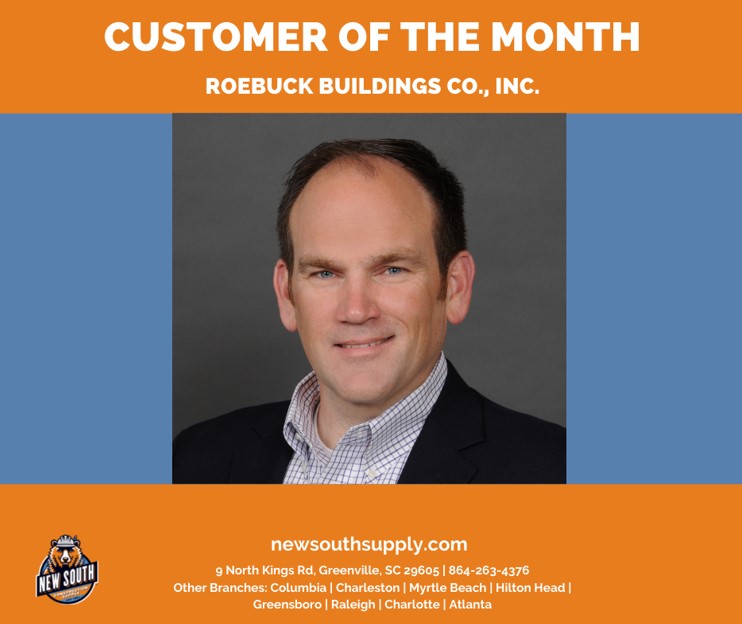 In this month's segment of Catching up with our Customers, we hear from Jason Fisher, Senior Vice President of Operations at Roebuck Buildings Co., Inc. Established in 1947 by John C. Anderson alongside a group of investors, Roebuck Buildings was focused on the pre-engineered building industry. Over the years, Roebuck has changed with the market, now designing and constructing everything from precast concrete, metal industrial buildings, as well as commercial, automotive, education, religious, and healthcare projects just to mention a few. Roebuck's wide range of experienced personnel is what drives the company forward, providing value to customers and creating quality products and services which is one of the company's top priorities. Learn more about the remarkable jobs Roebuck Buildings, Co., Inc. is currently working on, their core values and what those mean to them, and the "why" behind their "Build Better" company motto by reading the full Q/A below.
Tell us about Roebuck Buildings., its history as a company, and the main services offered

"Roebuck Buildings was founded in 1947 by John C. Anderson and a group of investors, with its primary focus being the pre-engineered building industry.  Over the years, the company has evolved with changes in the market.  Today we construct everything from pre-cast concrete and metal industrial buildings to commercial, automotive, education, religious, healthcare, emergency services, and retail facilities.  Over 50% of our business comes from repeat clients.  Approximately 70% of our work is design/build and 20-30% of our work is self-performed.  We offer pre-construction, value engineering, general contracting, design/build, design-bid-build, and construction manager at risk (CMAR) services."
What projects are you most excited about right now and why?

"We are currently in the finishing phase of a state-of-the art production facility for Tindall Corporation.  This 140,000 square foot pre-cast concrete building houses 12,000 square feet of office and serves as the manufacturing facility for pre-cast products for the utilities industry.  New South Construction Supply provided approximately 75 tons of rebar at this site."
Any favorite previous projects that come to mind? If so, tell us about them

"Roebuck Buildings recently completed a 53,510 sf automotive dealership facility for Spartanburg Chrysler Dodge Jeep Ram that had the shortest punchlist in our design partner's personal career history.  It featured load bearing CMU and composite wall panels.  New South Construction Supply provided over 30 tons of reinforcing steel for this project.  Another recent favorite is the 130,000 sf new manufacturing facility for Vermeer, Inc. in Greenville, SC.  It features cast-in-place concrete walls, 8" slab on grade, (14) overhead cranes and state of the art welding stations and welding smoke control.  New South Construction Supply provided diamond dowels and dowel baskets for the project."
What areas does your company mainly serve?

"We are licensed in South Carolina, Georgia, Alabama, North Carolina, and Tennessee; however, the majority of our business is located in Upstate, South Carolina."
How are you different from your competition?

"Roebuck Buildings is committed to furnishing top quality products and services and it starts with our dedicated team of people.  Our aim is to provide value to the client through all phases of the project with our wide-ranging expertise in all aspects of the job. We also partner with the best available vendors and subcontractors and that translates into superior products for our clients.   Not only does Roebuck Buildings deliver quality buildings and services, we are among the safest construction companies in the business.  Employing on average 75 workers, Roebuck Buildings has not had a lost-time accident in over 12 ½ years and our EMR is 0.70.  We have been recognized as a Department of South Carolina Labor and Licensing Regulation Gleaming Star for 6 years in a row, as well as being recognized by the South Carolina Chamber of Commerce and the GCI division of Captive Resources."
What are your company's core values?

"Our core values are integrity – always doing the right thing for the right reason; teamwork – creating an environment that fosters cohesive work both inside the company and with our clients; commitment – dedication to the work at hand; and dependability – being a reliable partner in everything we do. We believe these values translate to developing solid relationships with our clients, and in turn, developing the best possible product for them."
Do you have a company motto?

"Build Better.  This plain and simple statement sums up our approach to every action we take to deliver the best quality product for the best value."
What do you buy the most from NSCS? Any branch and NSCS associate you work with the most?

"Reinforcing steel such as rebar, dowels, and mesh.  Kevin Keller is our go-to guy."
What should others know about NSCS that they may not know?

"New South has always been a responsive, timely, and competitively priced partner for Roebuck Buildings.  Our new NCSC representative, Kevin Keller, has done a fantastic job filling the shoes of our previous one who represented New South for over 30 years."
What is the easiest way to get in touch with you or if someone wants to learn more about your business?