Catching up with our Customers: Andy Jones of Grey Gold Concrete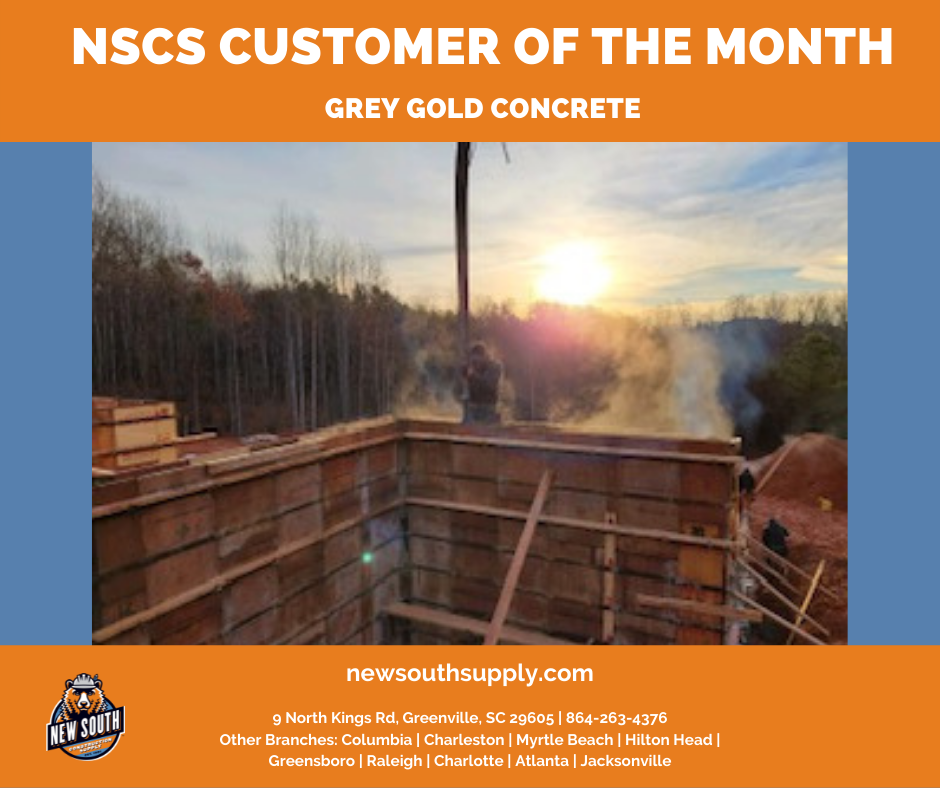 Catching up with our Customers: Andy Jones of Grey Gold Concrete
This month, we are highlighting Andy Jones as part of our Catching up with our Customers series. Andy is Co-Owner of Grey Gold Concrete out of Inman, South Carolina (close to Spartanburg and Greenville, SC), where they do concrete foundations mainly on the residential side. Originally from New Hampshire, both Andy and his business partner Jeff started this business back in the 2000's, and their business continues to boom by setting the foundations for ultra-luxury homes across the Upstate and Western North Carolina. They pride themselves on gaining business by doing the work others won't do (think: very difficult terrain and building homes on a mountainside). Read the full profile below and be sure to follow them on social media.
QUESTIONS
Tell us about your business and its history as a company.
Both my partner Jeff and I have been doing concrete foundations our entire life, and then we decided to form Grey Gold Concrete. My partner Jeff came to South Carolina in 2003 to start in this business, and I came down from New Hampshire after the Navy in 2007 to help him, and then I just never left. When I got out of the Navy, it was the dead of winter – freezing cold – in New Hampshire and there was no work, and Jeff called me and asked for help on a particular job. I planned to come down for a month to help with that job, and then I never left.
What areas does your company mainly serve?

We are based out of the Greer/Inman, SC area, and we serve the entire Upstate of South Carolina region and Western NC. We are looking to do more in the territories we serve, but we eventually would love to expand more. We have a lot of children between us all, and our plan is to expand with our family as they get older. Everyone in my family does this line of work. My brother does foundations, I do foundations, and so our children want to go into this already. I have eight kids and Jeff has 10, so it will be great for them to get involved. Fun fact with eight kids: we go through 10 gallons of milk a week.
What type of projects do you work on?
We are 75 percent custom residential, like the large, custom homes in Asheville, Lake Keowee, and around the Upstate and rest of Western North Carolina. 25 percent of the remaining work we do is for "normal" production homes mainly in the Spartanburg/Greenville/Greet region. Some of the homes on Lake Keowee we do are actually like commercial specs because the homes are so detailed, and then you are also dealing with crazy terrain.
How did you get into this niche?
We were willing to do things others were not – it's way more labor intensive and we were willing to go 32 foot high – we will do it all and we love to take on new opportunities. We will do whatever it takes, even if the site or terrain is harder. We get jobs based on the jobs others were hesitant to do. The best way to start is doing what others are not.
How would you say you're different from your competition?
We put quality at the forefront. We may not be the cheapest anymore (although we remain competitive), but the quality is at the core of what we do and at all of the job sites we do. We will take on any site no matter the condition.
Any predictions for the residential industry in 2022?
We are fairly booked out the rest of the year just for residential, and we do not see us slowing down. We did more estimates in Q1 2022 than any other total year. Maybe it will slow down due to materials being hard to get, I'm not sure, but I really have not seen it slow down where we are. In this area, people are still moving here and there is no sign of that slowing down. Everyone we are working with is not from here – we are building for people coming from other places. And the property taxes in the northern states are getting so ridiculous, so we don't see people just moving down here with the homes we are building, but we have also hired people from NH and NY who were coming down here to experience better weather, lower taxes and to see how business-friendly SC and NC are.
What do you buy the most from NSCS? Any branch and NSCS associate you work with the most?
Dexter is our salesperson and we have been using him for about six years now, but I have worked with New South for about 10 years. I hate calling dispatch, I am always so busy and therefore I always want a text – and Dexter is willing to do that. I text him and he helps me with what I need.
What should others know about NSCS that they may not know?
NSCS goes the extra mile for the customer, and if there is a mistake, they handle it and take care of it. Dexter will do the right thing as soon as I tell him. All in all, prices are close among competitors right now, but NSCS/Dexter goes further than any other salesperson I've had for materials. If Dexter is around builders, he gives them our number which I appreciate, too. I like that I have developed a good relationship with him and the word of mouth spreads our business name for us. We stopped advertising years ago because most of our business is word of mouth.
What is the easiest way to get in touch with you or if someone wants to learn more about your business?
If someone wants to learn more, you can visit our social media channels below.
Facebook: https://www.facebook.com/GreyGoldConcrete
Instagram: https://www.instagram.com/greygold_concrete