Catching up with our Customers: Carl Carney of Davie Construction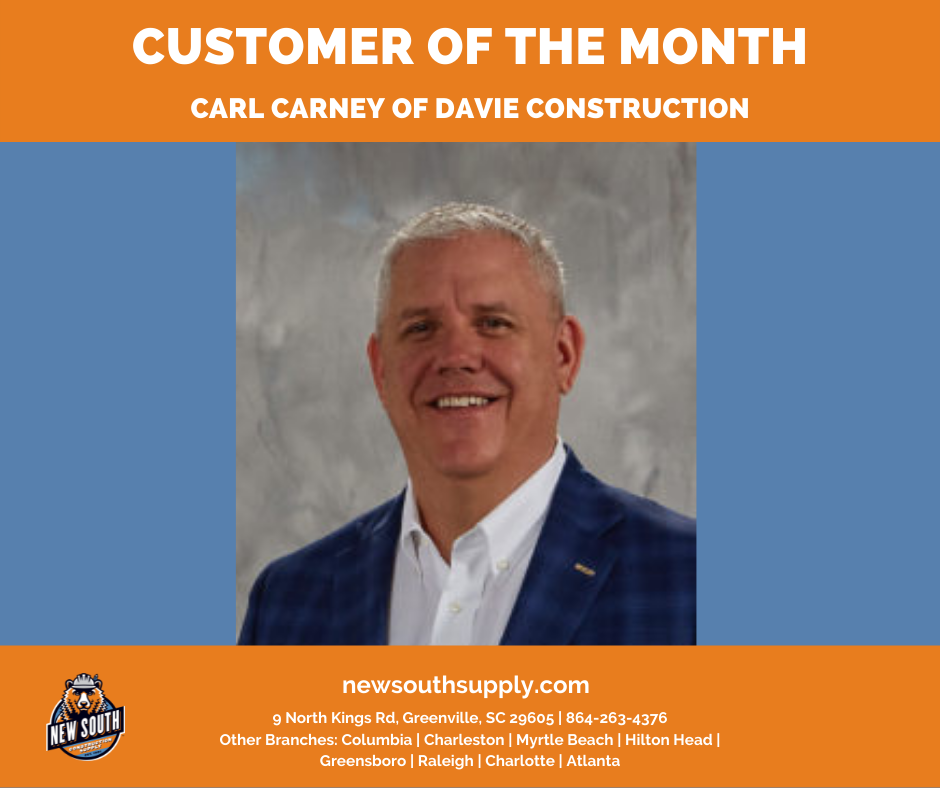 Catching up with our Customers: Carl Carney of Davie Construction
This month's Catching up with our Customers spotlight is on Carl V. Carney, Owner and President of Davie Construction Company. Founded in 1993, this North Carolina-based GC firm has been dedicated to providing the highest quality construction and general contracting services, across the south. Learn more about Carl's background, Davie Construction's typical projects and, and their impressive growth across the South by reading the full interview below.
QUESTIONS
Tell us about Davie Construction and its history as a company.
We are a 29-year-old General Contracting firm based out of Davie County, NC. I started the company with another gentleman 29 years ago, focused on healthcare construction.
My partner owned senior living facilities and so we supported that industry first. We stuck with it originally because it was what we knew. We do industrial work, we do higher-ed (colleges around the area), retail (large box stores – Ulta, Five Below, Ross', etc.). We also do medical offices, multifamily Industrial and senior living.
How did you get into this business?
I went to East Carolina University, and they have a construction management program there. After graduation, I went to work for a GC in South Carolina and then eventually came back to North Carolina as my wife is from a neighboring county and we ended up moving back this way.
Construction is all I've ever done since I was in college. And it's always very gratifying as you can see what you are building. My oldest daughter is an interior designer, my other younger daughter & her husband are building some homes for sale. My oldest son works with Davie Construction in Knoxville. My youngest son is an incoming Freshman football player for Wake Forest University.
We are all over the Southeast, anywhere from DC to the south. We are in eight states but we are in the process of getting into all 13 states in the south.
Are you seeing any trends in the construction industry right now? What is your recipe for success?
In terms of trends, growth, etc., we have seen a lot as a function of being around a while. We do a lot of repeat business. Typically, when we work with someone, we have a 70-80 percent retention rate that we will work with them again. This has forced us to more significant growth due to the repeat customer.
We do a really good job with partnering with our customers to become an extension of their business to help with their facilities. We invest well in technology, employee training, innovation and we are very much a family atmosphere. We took all the field employees down to Santee, SC for a fishing trip, for example. We get the employees together three times a year. We speak about it as our Davie Family – our Davie Family is very strong.
Our project managers are also great – we have employees with degrees from various places, like UNC, NC State, East Carolina, Clemson, Western Carolina and more – it brings a great synergy, and they all know construction science and civil engineering very well.
What projects are you most excited about right now and why?
We are doing a lot of adaptive reuse construction, which is taking a building that was X and turning it into Y. We are doing the Macy's at Hanes Mall and we tore it into pieces and turned it into an Ops Center for Truliant Federal Credit Union – which is a $23-24 million dollar project. It's a very cool reuse of space. It's really neat to see a rebirth of the area and it's rewarding. Truliant will ultimately put 600 people in that space, and it takes a mall and creates instant customers who will go to work there every day.
Do you have any big predictions for the construction industry for the rest of 2022 you want to share?
I think this summer will be the peak, at least likely for a while. So many schools didn't do work for a while due to Covid, and now a bunch of money came to these schools for new projects, so we have the perfect storm when it comes to work for schools. As interest rates start to rise, I think perhaps these jobs will get more expensive. Short-term, it will be crazy busy, but long-term, it may soften a bit due to interest rates.
Who are your mentors that you know personally or at a higher level (ex: could also be a public figure) and why?
A great deal of our success is due to having a great CFO for a long time. It's very important to have sound, financial help with this business or any other business for that matter. Year one, we did $1 million worth of work, and this year we are on track to do $100 million, and I'm glad to have a great CFO to help guide us throughout our growth.
What do you buy the most from NSCS? Any branch and NSCS associate you work with the most?
Our NSCS rep is Brian Brady – he is awesome and does a really good job taking care of us. My son was a Wake Forest football player and Brian was always so kind about my son's Wake Forest University football career – and that stuck with me. In terms of products, we buy rebar the most from NSCS. We also buy rebar caps caps, and other concrete accessories. It's great working with New South as they are in the locations where we are. We are always able to get what we are looking for, and Brian is excellent with customer service. We have worked with him even before he was at NSCS.