Catching up with our Customers: Carolina Foundations, Inc.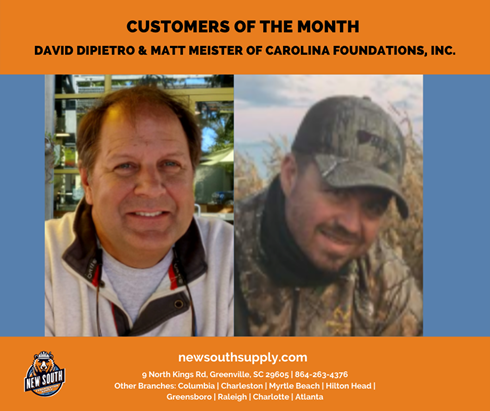 David DiPietro and Matt Meister of Carolina Foundations, Inc. are this month's featured customers in our Catching up with our Customers series. New South Construction Supply has worked with David and Matt for years, and their residential concrete contractor business of nine years prides itself on honesty, systems and top-quality work.
During the Q&A,  we interviewed Matt, a Partner alongside David, where we focused on the booming Charleston economy and home building efforts underway. If you haven't been to Charleston recently or if you're curious about residential construction in the Lowcountry, give this Q&A a read to discover just how quickly this area is growing.
Full Q&A with Carolina Foundations, Inc.
Tell us about Carolina Foundations, its history as a company, and the main services offered
We are a residential contractor and we do foundations — everything from mono slabs to raised block walls to custom home projects. We essentially do everything but basements. We're located near Charleston, in between Moncks Corner and Mount Pleasant.
I (Matt) was working with 84 Lumber right when the downturn happened. When the downturn came, Firm Foundations asked if I would work with them, so I did. That was in November 2011, and nine years later, we are now close to doing $18.5 million this year. I'd say it was a good decision.
2020 has been a wild year. What has business been like for you all?
At the beginning of Covid, everyone expected a lull, but we had to hire two new employees at the beginning because we had a gut feeling business would get busy, and we were right. When you're handed lemons you need to make lemonade, and we feel fortunate that we've done so well, especially during a year like this one.
With the amount of people coming from larger cities and industries like Boeing moving more jobs to Charleston, business is only continuing to get bigger.  I read that pre-Covid, about 45 people were moving to Charleston each day, and now it's around 80 people a day. There's almost no housing inventory and we're all building as fast as we can.
Where are you mainly working right now? Where is business booming?
Johns Island, and the stretch between Summerville and Moncks Corner is booming. There are currently around 19,000 homes to be built in the Summerville to Moncks Corner stretch.
What projects or partners are you most excited about right now and why?
Our biggest partner right now is D.R. Horton — we do mono slabs for them and that's their bread and butter. We also work with a lot of other national home builders and local home builders like Crescent Homes.
What are the best attributes of your business?
We win business through servicing people right, and we also have great systems in place. We have a great online scheduling and project management system in place, so it's easy and accessible to always see the jobs that are currently happening. Our company is a mixture of project managers, subs and hourly employees, and all combined with subs we have around 80 employees.
How are you different from your competition?
The biggest feedback I get is that we are responsive. Anyone can pour slabs in driveways. It's the other stuff, the warranty work, the extra "little" things that matter, and it's also being responsive that matters — we always answer the phone, and we care. Another big thing we do is we do not lie — period. Honestly and reputation is everything, and after all, Charleston is really a small town, especially in this industry. Honesty is key, and that's how you build trust.
Why do you like working with NSCS?
We've been buying from New South Construction Supply since we started in 2011, and Bailey Williams is the sales rep. He is great, and he is the reason we buy from NSCS. The associates at the Charleston branch are really great, too. Mistakes get made from time to time and if there is one, they correct it and are responsive.