Catching up with our Customers: Exterior Expressions, Inc.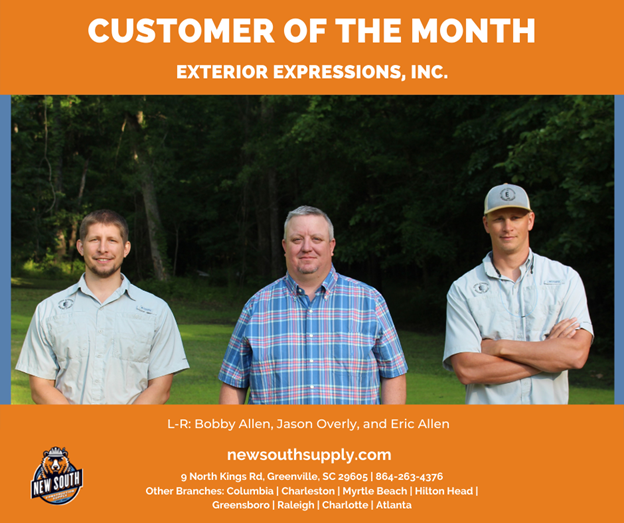 In this month's segment of Catching up with our Customers, we highlight Exterior Expressions, Inc., a turnkey masonry company that's skilled in every type of masonry work, including structural and architectural block, brick, stone, and cast stone. In 2013, Jason Overly, and Eric and Robert "Bobby" Allen III became owners of Exterior Expressions, growing the company by expanding into Charlotte, NC and Charleston, SC. Learn about the impressive projects Exterior Expressions has been a part of, their noble company motto, and the company's core values by reading the full Q&A.

"Catching up with our Customers" Q&A
Tell us about Exterior Expressions Inc., its history as a company, and the main services offered
Exterior Expressions is a turnkey masonry company. We are skilled at any type of masonry work including Structural and Architectural Block, Brick, Stone and Cast Stone. The company began business in Atlanta, GA in 1994 under the leadership of Robert Allen II. We began with one crew and grew over time. In 1997 we opened our second office in Charlotte, NC and continue to install work in and around the Charlotte area. In 2013 Robert Allen III, Eric Allen and Jason Overly became owners in the company and we have continued to grow, opening our office in Charleston, SC in 2014.
What projects are you most excited about right now and why?
We are very excited to be a part of the team currently performing the updates and remodel of the Volvo Tennis Center in Charleston, SC.
Any favorite previous projects that come to mind? If so, tell us about them
Grove Park Inn and Spa in Asheville, NC
World Golf Village in St. Augustine, FL
South Carolina Ports Authority Headquarters in Mt. Pleasant, SC
We have also completed work at many Colleges and Universities including Georgia Tech, Duke University, Virginia Tech, and Oglethorpe University among others.
What areas does your company mainly serve?
We mainly serve the Charleston, SC and Charlotte, NC areas but we have worked and completed projects successfully throughout the Southeast.
How are you different from your competition?
We strive to separate ourselves from our competition through our professional and personal management of each of our projects.
What are your company's core values?
Our goal is to provide superior workmanship, unmatched service, and hands on management at a competitive price to every customer we do business with.
What led you to start Exterior Expressions Inc.?
The company was started to serve the needs of our customers and we have continued to grow by recognizing those needs and rising up to fulfill them.
Do you have a company motto?
Our motto is "We built our reputation on recommendations." This has been the case since our inception and continues to remain true today.
What do you buy the most from NSCS? Any branch and NSCS associate you work with the most?
We buy many of the products that we use every day from New South including Rebar, Wall Ties, Flashing and other Masonry Accessories. We have worked with many of New South's branches on our projects including Atlanta, Charlotte, Columbia and Charleston but by far the majority of our business has been with the Charleston branch. We have always received great customer service from our sales rep, Bailey Williams as well as the rest of the team.
What should others know about NSCS that they may not know?
We believe that New South has many of the same core values that we do. Specifically, the importance of great customer service and the value of maintaining great relationships with everyone they serve.
What is the easiest way to get in touch with you or if someone wants to learn more about your business?
Optional: What else did we leave out or would you like for businesses to know?
We have been a family owned and operated business since our inception and together with our employees we strive to produce superior projects on time and on budget.