Catching up with our Customers: Garett Harvey of CBM Concrete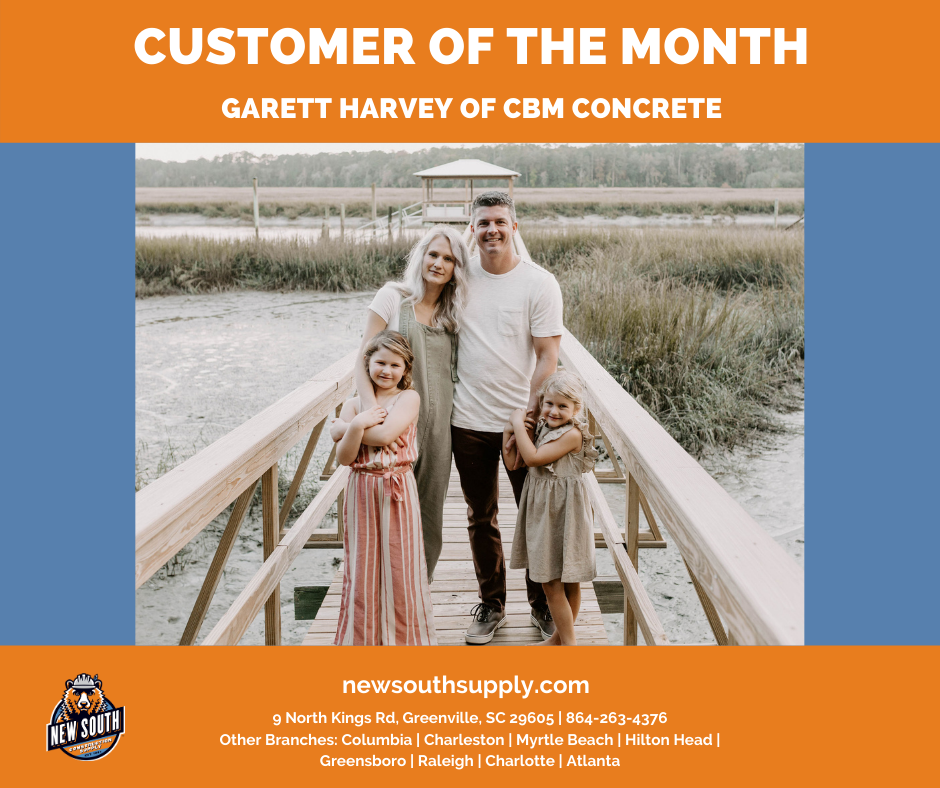 In this month's segment of Catching up with our Customers, we catch up with Garett Harvey, president of CBM Concrete. Garett first began his journey in the concrete industry right after college, working at Savannah Hardscapes where he found his appreciation for concrete work. Garett then moved on to create Outdoor Accents, a company that had concrete, masonry, and decorative concrete services.
After several years, Outdoor Accents began focusing strictly on concrete projects which led to the creation of CBM Concrete and brought the company to where it is today. Learn more about Garett's favorite jobs, his regard for "large/small" businesses, and the special meaning behind the CBM name by reading the full Q&A below.
Full Q&A Below
Tell us about CBM Concrete, its history as a company, and the main services offered.

CBM Concrete originally started out as Outdoor Accents. A company that did concrete, masonry, decorative concrete and pavers. However, the company was started during the recession, so I quickly realized that we needed to focus our efforts more into concrete that is on every job essentially ( i.e. concrete foundations, foundation block, slab on grade, etc. ) After several years having an almost 50/50 split of masonry to concrete work, we soon realized that we were a much better concrete company than a masonry company. This led to the birth of CBM Concrete, a company that does mainly structural concrete, hence the acronym CBM, which stand for Caity, Blakeley, and Maysen, my wife and two girls, who are essentially the structure of my life.

How did you get into the concrete industry?

I got into the concrete industry by watching and learning about concrete at my first job out of college with Savannah Hardscapes. The thing that caught my attention about concrete was that it was extremely systematic, and had very predictable results, IF, the process was followed and not deviated from. Following processes and systems is probably one of the only things that I am good at so there's the allure to concrete.

What projects are you most excited about right now and why?

I am most excited about just getting our workflow back to normal. The Covid scare has had a delayed effect on the commercial construction sector, and has delayed many jobs.

Any favorite previous projects that come to mind? If so, tell us about them

We just finished a multilevel parking deck/multifamily structure. One of my favorite projects because of the construction company that we were working for, Samet, a stand up outfit, and the complexity of the job.

What areas does your company mainly serve?

We have offices in Hardeeville, SC, Charleston, SC, and Greenville, SC.

Do you have plans to grow outside the current area you serve?

We are willing to grow within a realistic radius of each of our branch locations, but not much more than that.

How are you different from your competition?

We are different from our competition in my eyes because of our response time to issues, or just communication in general. Also, we are a large/small company if you will. We have meetings every week with each key player in our company which allows everyone to know what is going on with every applicable aspect of each job.

How many employees do you have right now?
What do you buy most from NSCS?

Rebar and slab accessories.

Any branch and NSCS associate you work with the most?

Do most of our work with the Hardeeville, SC (Hilton Head, SC) branch.

What should others know about NSCS that they may not know?

In my opinion NSCS is very similar to us. They are a large/small business and have a totally different feel, work wise, than any of the huge corporations. They are not perfect, as we aren't as well, but will do whatever is necessary to make it right. Also, Jim Sobeck has always been a standup guy with me, from when we were absolutely nothing until now — that really means something these days. He also got my first born, Maysen, a book and a bear when she was born. He probably doesn't even remember that but I always will.