Catching up with our Customers: Kyle Daigle of Bottomline Construction Services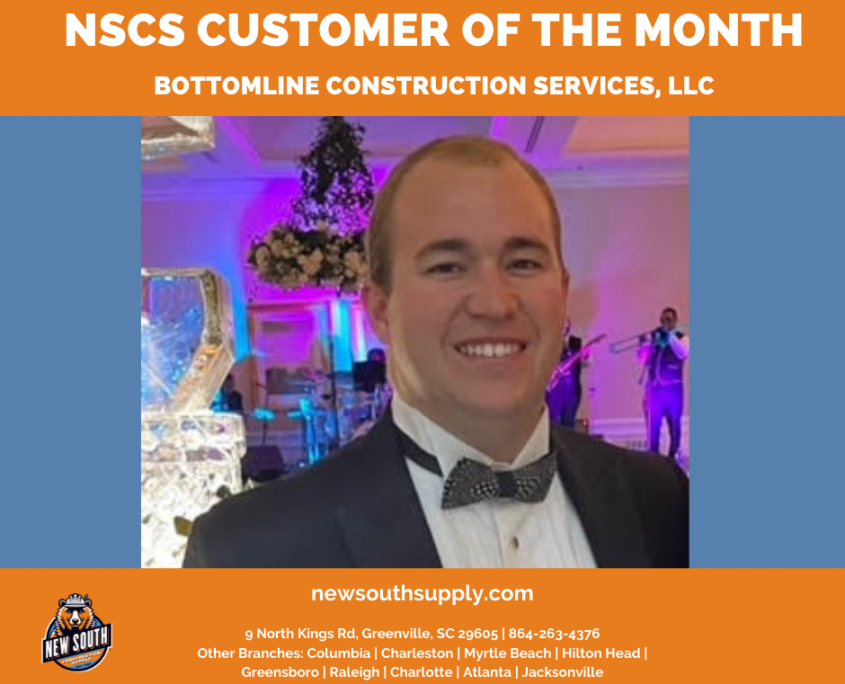 Catching up with our Customers: Kyle Daigle of Bottomline Construction Services
In this month's segment of "Catching up with our Customers," we highlight Kyle Daigle, Owner of Bottomline Construction Services, a concrete foundations company based out of Savannah, GA and with an office in Charleston, SC. Kyle started his business after years working up the ranks at Firm Foundations in Atlanta, GA, another great customer of ours. Kyle works primarily with Steve Melton, our Market President, and the Hardeeville, SC (Hilton Head Island/Savannah area) branch. We had a great interview with Kyle, where we learned more about how he got started in the business, the story of how he opened his second office, and talked through construction predictions for the rest of 2022. Take five minutes to read the informative interview below.
QUESTIONS
Tell us about Bottomline Construction Services, its history as a company, and the main services offered
I started working for my dad's business, Firm Foundations in Atlanta and after years of working there, I moved to Savannah in 2016 to be where my now-wife is from. Upon moving, I decided to start the business in May 2016, bought my first home in June 2016, moved to Savannah in July 2016, got married in August 2016, and did our first job in October of 2016 – it was a year!  We are a prominent residential concrete contractor, where we do 75 percent residential work and 25 percent commercial (smaller commercial projects that is – like a small retail store.) 
Our first customer was D.R. Horton in Savannah, by the end of 2019 we were the largest residential contractor in Savannah, and by the beginning of 2020, we had branched out to Charleston, SC and started our branch there, where our focus was to grow the residential side of things there. Due to the massive residential boom, we are doing a ton of work in the three main areas of Mount Pleasant, Johns Island and Summerville. 
We opened the Charleston, SC branch right before Covid, and we were trying to run it from Savannah, and after a few months we realized we needed an actual set presence in Charleston. As a result, we ended up hiring two people full-time during the summer of 2020, and then our business really took off. After hiring those two initial superintendents, we kept growing and now we have eight people in Charleston and a total of 11 people in Savannah. 
Also, I have a partner in my business, Austin Flachbarth and he bought into the company very early in the company after I started, we did our first job together in October 2016.
How did you get into this business?
Firm Foundations is owned by my father, and I skipped college and went straight to work for his business out of high school, where I learned and grew from the ground up. I started on the shovel and worked my way up all the way through his company – I did the scheduling, the purchasing, the managing, the whole nine yards. And I met a lot of people which helped me grow into the position I am in today. 
What projects are you most excited about right now and why?
One of our big ones in the Savannah, GA region is in Hardeeville, SC – Latitude Margaritaville, a retirement community. A year in, we took over half of the concrete work, and another year in, we have now taken over all the concrete work associated with this project. It is a great project and great name recognition for our business. They also started one in Panama City which is double the size, and my business doing the work for this Latitude Margaritaville resulted in Firm Foundations securing the same Latitude Margaritaville project down in Panama City, FL.  Minto Communities is the builder for this project, and it's been a great project. 
In Charleston, we are still building up the book of business and working for seven or so builders, and we just closed on our new office in December 2021, so we look forward to growing into that market more.
What areas does your company mainly serve?
We serve north of the Charleston area to Savannah and down to Brunswick, and everywhere in between there and the stretch between I-95.
How are you different from your competition?
We are very responsive, and we are big on scheduling, and we are pretty prompt to get things done for our clients. We have a lot of overhead and it's important for us to get things done quickly.  We have a strong vision. Overall, a lot of people like that we are fairly priced and get things done quickly – especially in residential real estate where things tend to move quickly.
Do you have any big predictions for the construction industry for the rest of 2022 you want to share?
Covid was an initial threat two years ago, but it ended up being a huge positive for the residential market, and as interest rates hike up, our advantage is our location, in that retirement is always going to be a big thing around our locations. I do see residential slowing down perhaps some due to higher interest rates, but overall, we anticipate we will remain steady and still grow due to how hot this area is.
What do you buy the most from NSCS? Any branch and NSCS associate you work with the most?
Steve Melton is my go-to guy and I met with him before I even started the company, and he has been by my side ever since. We get lunch once a month to catch up, and he takes care of us. At NSCS we mostly buy rebar, and then we buy all our tools from NSCS as well.
What should others know about NSCS that they may not know?
The "Know How. Can Do." slogan is correct. Sheldon goes above and beyond. I can text him on a Friday afternoon and he will leave something for us to get after hours or deliver on a Saturday when we need it. They really check-in and care. They do not get that first order and then do not follow up. They are here to help us grow. Steve gives us a ton of leads – he kept guiding and pushing me to go into Charleston. He would always call me and ask me "when are you going to Charleston?" And then I went – ha! Overall, NSCS is willing to grow with you and help your business grow so they can grow as well. And they'll support you with their multiple branches, and it's especially awesome with the new Jacksonville branch and Florida presence. Steve now asks me all the time when I'm going to Jacksonville…so at this rate, who knows, maybe I will have a location there in the next year.
Bottomline was started in 2016! The same year I moved to Savannah Ga, bought my first home, started my own business, got married to the love of my life, and did my first job, It was a hell of year.