Catching Up With Our Customers: Mark Hood, President and CEO of Hood Construction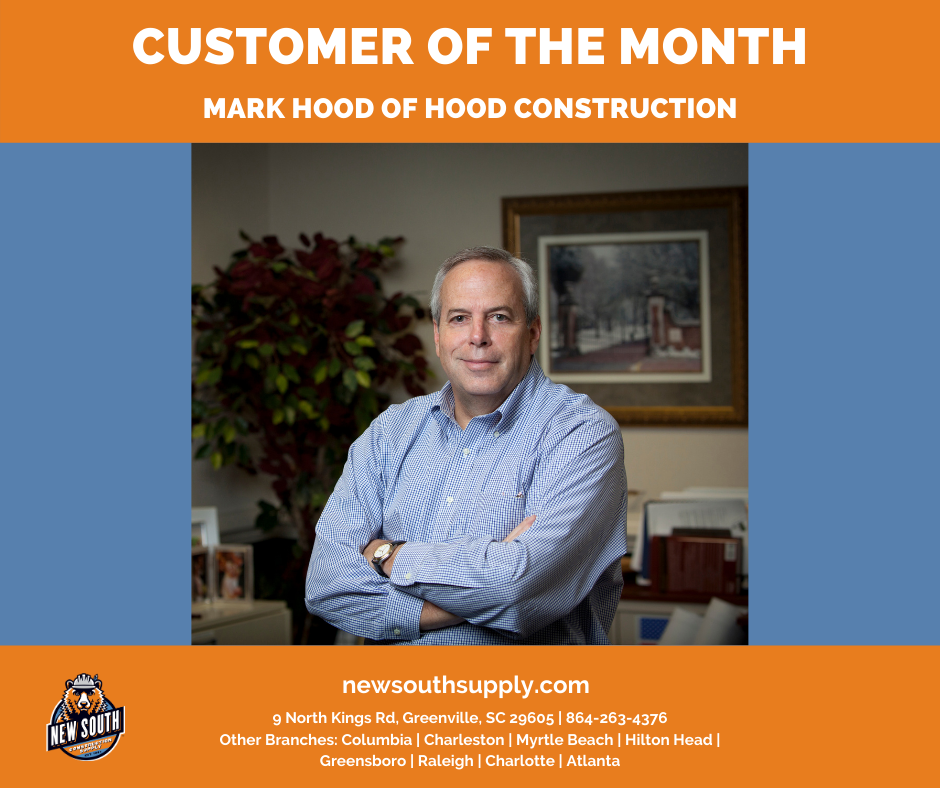 In this month's segment of Catching Up with our Customers, we're speaking with Mark Hood, President and CEO of Hood Construction. Founded in 1986, Hood Construction is a full-service construction management and general contracting firm that services a variety of different industries. They have also received awards and recognition for their exemplary service and attention to safety protocols. Learn more about Hood Construction's dedication to their clients, commitment to safety on the job site, and cohesive company culture by reading the Q&A below.

"Catching up with our Customers" Q&A
Tell us about Hood Construction, its history as a company, and the main services offered.
Hood Construction is a full-service construction management and general contracting firm founded in 1986. Our portfolio is broad, and includes offices, hospitality, healthcare, K-12 and higher education, faith-based, retail, industrial, and historic work. We build green field, renovation, retrofits, restoration, adaptive re-use and many other creative undertakings.
What areas does your company mainly serve?
We are licensed in SC, NC, and GA, but the majority of our jobs take place in SC. Many of these are within the midlands area, but several others are in the Lowcountry and upstate.
Do you have plans to grow outside the current area you serve?
We enjoy long term relationships with many of our clients, with about 87% of our work being with repeat clients. If one of these clients needs us to work in a different area, we are more than happy to travel outside of our core service areas in order to serve their needs.  
How are you different from your competition?
We believe in doing what is right, and this old-fashioned trademark has proven sound, as a majority of our projects repeat clients who value our no-nonsense nature. Our staff holds expertise in all phases of your project's development – and all project managers have built buildings with their own hands. We are a cohesive team, committed to working together to make each project a success. We also have an outstanding safety record, and in March of 2019 celebrated the milestone of 2,000,000 hours without a lost time incident.
How many employees do you have right now?
We currently have 95 employees.
Tell us about your commitment to safety, and other important pillars you have with your business.
From start to finish, we make sure our job sites are well equipped to ensure the safety of all people on site. The process begins before a shovel hits the ground. We will work with the project owners during the pre-construction process to develop a safety plan to ensure the community of the job site is protected. Whether we're working within busy communities & business districts or smaller renovations, planning and communication is both the key to safety for all people as well as to successful project results. Hood Construction's Safety Commitment is a vital part of our organizational focus, as we diligently work to safeguard our greatest assets, our employees, and our community – each and every day. And our record proves it. There have been zero OSHA citations levied against Hood Construction over the past 5 years. And, as referenced above, Hood has hit the rare milestone of 2,000,000 man-hours worked without a lost-time injury, and that number continues to rise.
Are there any achievements or awards you're proud of or would like to call out?
Our firm has been the proud recipient of a number of awards. These include numerous safety honors, including the Carolinas Association of General Contractors Safety Award of Excellence, Safety Awards from Labor Licensing and Regulation for SC OSHA Exemplary Service, BB&T Insurance Lighthouse Beam Safety Award, the Amerisure Insurance Outstanding Safety Performance Award, and the Carolinas AGC Presidential Award for Zero Lost Time Incidents. We have also received several other honors, including many awards from Historic Columbia Foundation, Palmetto Trust for Historic Preservation, the Preservation Society of Charleston, and the SC Department of Archives and History.
What do you buy the most from NSCS?
Concrete/masonry accessories, as well as various waterproofing materials. 
Any branch and NSCS associate you work with the most?
We primarily work with Jon Black and deal with various NSCS branches throughout SC. 
What should others know about NSCS that they may not know?
No matter how small or large the order, NSCS is always there to help.
What is the easiest way to get in touch with you or if someone wants to learn more about your business?