Catching Up With Our Customers: McKenzie R. Jordan, President Of Chancel Construction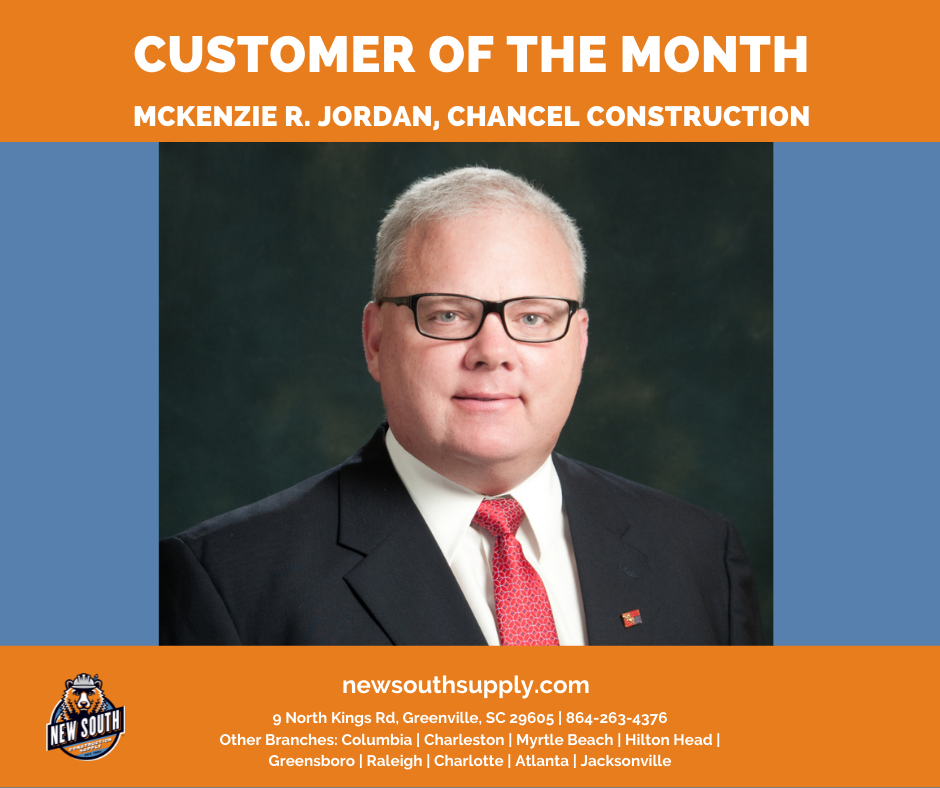 Catching up with our Customers: McKenzie R. Jordan, President Of Chancel Construction
This month's Catching up with our Customers spotlight is of McKenzie R. Jordan, President of Chancel Construction Inc., a second generation, family-owned construction company with 50 years of construction leadership experience in the Myrtle Beach, SC market and the surrounding area. Their name is inspired by their first-ever project as a company on the chancel, or front portion, of a church sanctuary. It represents a significant milestone in their company history and serves as a metaphor of their commitment to be upfront in all that they do. To learn more about McKenzie and Chancel Construction, read more below.
QUESTIONS
Tell us about Chancel Construction, its history as a company, and the main services offered.
Chancel Construction, Inc. is a second generation, family-owned construction company with fifty years of construction leadership experience in the Myrtle Beach market and surrounding area. Our name is inspired by our first project as a company on the chancel, or front portion, of a church sanctuary. It represents a significant milestone in our company history and serves as a metaphor of our commitment to be upfront in all that we do. Our current project portfolio includes medical facilities, educational buildings, athletic venues, retail centers, banks, restaurants, law enforcement facilities, and assisted living facilities. We like to think of ourselves as the "full-service contractor," and we partner with many of our clients from the early design and preconstruction phases to build-out. We also offer Design-Build, Value Engineering, and Construction Management services.
How did you get into this business?
I was born and raised in the construction industry, and I have known all my life this is what I wanted to do. I learned the value of hard work from my father, Charles, who owned a local construction company. When I was five years old, I made my first business card. It said McKenzie Jordan, FPCCI (Future President of Chancel Construction, Inc.). Naturally, growing up, I worked in many aspects of the business. As a young boy, I started out completing small jobs around the office such as cutting the grass and weed eating. I spent my summers in high school as a field employee. Later, in college, I worked as an Assistant Project Manager and then moved up to a Project Manager. Over the years, I gained valuable construction knowledge by working in the industry from the ground up.
What projects are you most excited about right now and why?
We just started construction of the 66,000 sq. ft. Library Learning Complex at Coastal Carolina University. When finished, this facility will have offices, classrooms, computer labs, study rooms, and tutoring spaces. As a graduate of CCU, I really enjoy working with the University, especially when it is on a project of this size and scope. We are also building the new OrthoSC office in North Myrtle Beach. This project is exciting to me personally because it is the tenth project that Chancel has built for the various orthopedic doctors now known as OrthoSC. One project I am excited to be wrapping up is Ailsa Village, a 130-unit horizontal apartment complex at Legends Golf and Resort in Myrtle Beach. This project required a highly collaborative approach to ensure that quality standards, budgets, and scheduling deadlines were met, and I am proud to say from pre-con­struction to close out, our entire project team worked to­gether to accomplish our shared goals. We are about to start on an 82-unit townhome project with the same developer, so that is exciting as well.
What areas does your company mainly serve?
Eastern South Carolina
Southeastern North Carolina
How are you different from your competition?
I believe our key differentiator is our people. Construction is all about people – you need wood and concrete and metal; but at the end of the day, it is all about relationships and communication. As a company, we have always had a strong sense of right and wrong, and we have built our business on the values of honesty and integrity. Whether in the meeting room or on the job site, we are upfront with each other and with our partners. Our people are honest, humble, and hardworking industry veterans. Our key construction personnel have an average of 30+ years of experience in the field. As builders, we are invested in building a stronger foundation for the next generation. We are a passionate crew that is just as dedicated to our work as we are to our community. Our employees generously serve and support local churches, schools, civic groups, youth organizations and nonprofits. The team at Chancel Construction truly makes all the difference – we do not try to be the biggest construction company; we try to be the best.
Do you have any big predictions for the construction industry for the rest of 2022 you want to share?
I think the rest of 2022 could be rocky for the construction industry, but I am optimistic that many of the inflation and supply chain problems of the last two years will begin to level out by the beginning of next year.
Who are your mentors that you know personally or at a higher level (ex: could also be a public figure) and why?
My father, Charles Jordan, has always been my biggest mentor in the industry. He built a legacy of uncompromising values, and his commitment to higher standards still defines everything we do today at Chancel Construction, Inc. At Chancel, our motto is "Upfront in All We Do." This means our character stays true through every circumstance… We always stand up for what we believe in, no matter the cost. We are respectful and responsible in all our dealings, and we are devoted to excellence. While the motto is pretty recent, the values it embodies were instilled in me from my father from a very young age.
What do you buy the most from NSCS?  Any branch and NSCS associate you work with the most? What should others know about NSCS that they may not know?
Clint Paul at the Myrtle Beach branch is the associate we work with the most. Clint is a phenomenal partner to Chancel Construction, and we are thankful we can depend on him. He is upfront, honest, and readily available to help. Anytime we have had a technical question, Clint has either known the answer or promptly gotten us in touch with the manufacturer's representative. There is no doubt in mind that what sets New South Construction Supply apart is their customer service and knowledge of the products they are selling. Most of the items we purchase from New South Construction Supply are concrete and masonry accessories.