Catching up with our Customers: Mike Turner of Cornerstone Masonry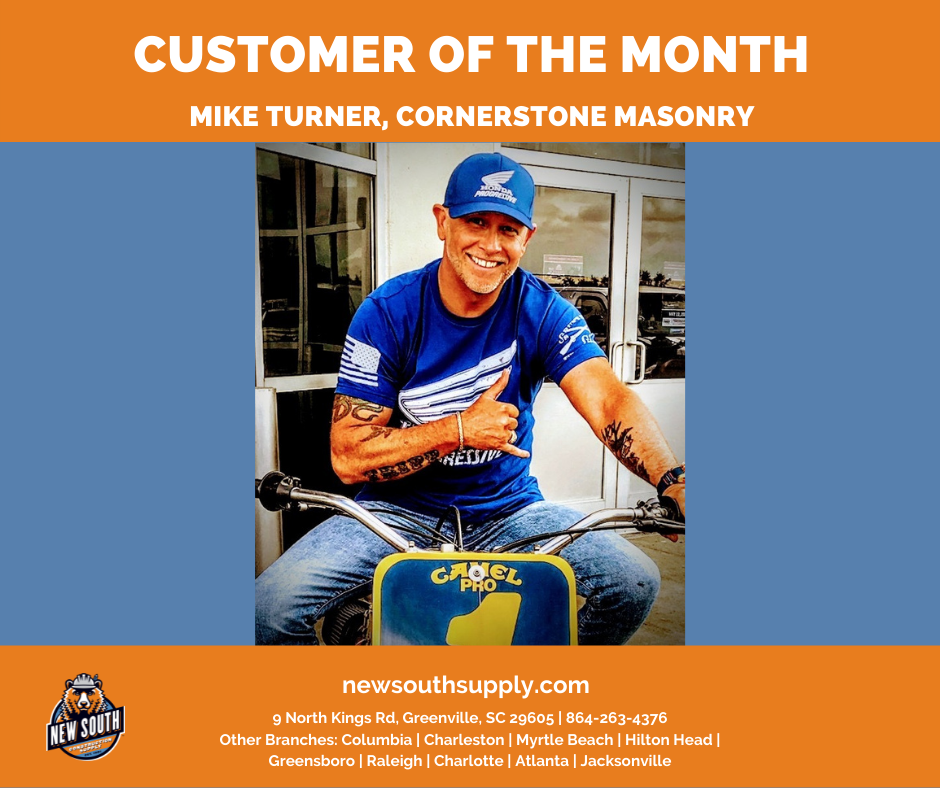 Catching up with our Customers: Mike Turner of Cornerstone Masonry
In this month's segment of "Catching up with our Customers," we highlight Cornerstone Masonry, a masonry company based out of Atlanta, Georgia and who works primarily with New South Construction Supply associate Kami out of our Atlanta/Lithonia branch. We interviewed Mike Turner, co-owner of the business, to learn more about the projects he is most proud of, how he got into the business and how he differentiates his business from the competition. Learn more below.
QUESTIONS
Tell us about Cornerstone Masonry, its history as a company, and the main services offered
I started Cornerstone Masonry in 2011 alongside my partner, John Bueltel. We are both co-owners of the LLC. We are based out of Atlanta, GA, with offices in Charleston, SC and Savannah, GA. We have offices in Charleston and Savannah due to the work we do – which is a lot of historical work in those downtown areas. We serve the entire southeast based out of these three offices.
How did you get into this business?
All of my family were masons – my dad, my grandfather, my uncles, my cousins and my brothers – so it came naturally to me. I guess you could say I was born to do it.
What projects are you most excited about right now and why?
Right now we have several huge masonry projects in downtown Charleston – in fact, we are about to lay two million bricks at a project in downtown Charleston. Our experience is in very large commercial projects, so we also have a big project coming up in Beaufort, SC at a school.
How are you different from your competition?
My employees are what differentiate us from the competition. They are the best in the business, and even though we started in 2011, most of our employees have been with us for 20 years from my previous business, which shows a lot of trust. One of my superintendents even went to high school with me.
What do you buy the most from NSCS? Any branch and NSCS associate you work with the most?
We buy rebar and masonry accessories the most from New South, and our account rep is Kami out of Lithonia, GA.
What should others know about NSCS that they may not know?
That you guys are always on-time and "Johnny-on-the-spot," which I appreciate.
How can someone get in touch?
Please call the main line at the office, 770-205-1819, and we will get back to you.