Catching Up With Our Customers: Southeast Concrete Systems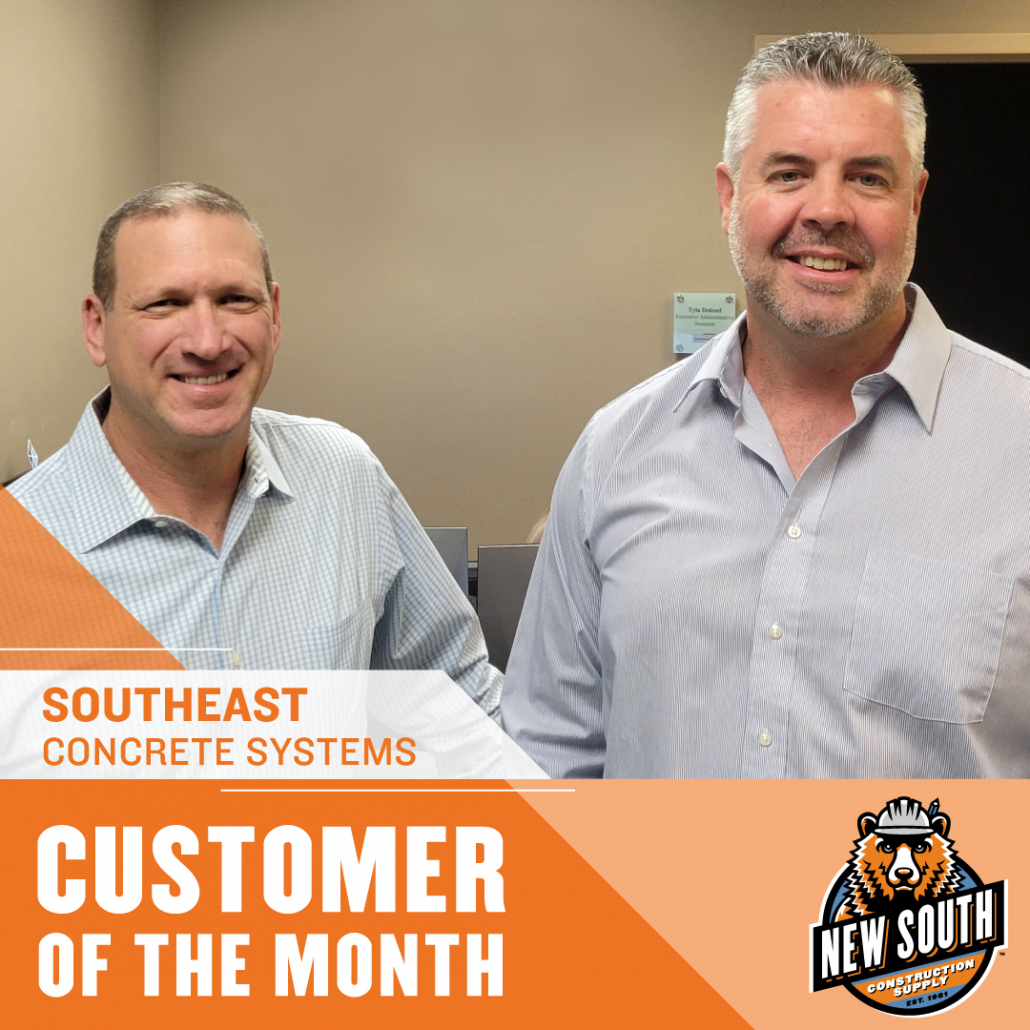 This month, we are catching up with the team over at Southeast Concrete Systems, based out of Alpharetta, Georgia. Southeast Concrete Systems was founded in 2014, after the joining of forces of CEO Adam Pearlman and President Ken Blumbek. They are a full-service commercial construction company specializing in tilt wall construction, foundations, slabs, decks, and concrete paving. To learn more about them, read below.

"Catching up with our Customers" Q&A
 Tell us about Southeast Concrete Systems, its history as a company, and the main services offered.
Southeast Concrete Systems, Inc. is a full-service commercial construction company specializing in tilt wall construction, foundations, slabs, decks, and concrete paving. We have completed nearly 100 projects in the southeastern United States and have placed over 19 million square feet of concrete both on the ground and in the air. Our office is located in Alpharetta, Georgia, about 20 miles outside of Atlanta. The majority of our projects are industrial facilities, such as logistical/distribution/manufacturing spaces, but we have also completed projects in institutional, office, hospitality, and entertainment sectors for companies like Charleston Southern University, Home Depot, Main Event, Colonial Pipeline, Old Dominion Freight Line, Unifirst, and Sysco.
How did you get into this business?
SECS was founded in 2014, after the joining of forces of CEO Adam Pearlman and President Ken Blumbek. They had a desire to build a company based on great customer service and family values, with the goal of becoming one of Atlanta's preeminent commercial concrete contractors. We're well on our way!
What projects are you most excited about right now and why?
Our continued work at Vista Metals Georgia is exciting – we've constructed multiple expansions for their aluminum manufacturing facility, including a 40' deep casting pit that won us an Award of Excellence in 2021 from the American Concrete Institute. We are also currently building our first freezer/cooler buildings in Union City, Georgia. Further east in Savannah, we have been working alongside an amazing owner/client/GC team to deliver 5+ projects over the past two years. Confidence in consistent trade and vendor partners is key, and this set of projects is absolute evidence of that.
What areas does your company mainly serve?
Most of our projects have been located in Georgia, Florida, and South Carolina. We are a licensed General Contractor in seven states: Georgia, Alabama, Mississippi, Florida, North Carolina, South Carolina, and Virginia, and have completed additional projects in Kentucky and Tennessee.
How about: How is Southeast Concrete Systems Different Than Your Competition?
We pride ourselves on becoming partners with not only our clients but also our vendors. We want to be known for providing high-quality work through our attention to detail, maintaining open communication, and always remaining approachable to all project team members.
Do you have any predictions for the construction industry for the rest of 2022 and going into 2023 that you want to share?
It's no secret that the last few years have been tough on a lot of companies. Rising production costs and labor shortages have required some creative solutions to manage through and solve these challenges. We have been very fortunate to maintain the relationships we've built in the greater Atlanta area (and beyond) with our owners, clients, and vendors, to help maintain our standard of excellence. As time goes on, these relationships will continue to grow, and we are so thankful for them.
What do you buy the most from NSCS? Any branch and NSCS associate you work with the most?
The majority of our orders from New South consist of tilt & slab accessories and dowel baskets. Our primary contact is Phil Jones, out of the Atlanta branch.
What should others know about NSCS that they may not know?
New South is a customer-focused and no-nonsense supplier of construction materials. We know that we can depend on them for a timely and effective response at every stage of the ordering process, from quotation to delivery, through invoicing, and beyond.