Catching Up With Our Customers: Gary Ogden of Welch Construction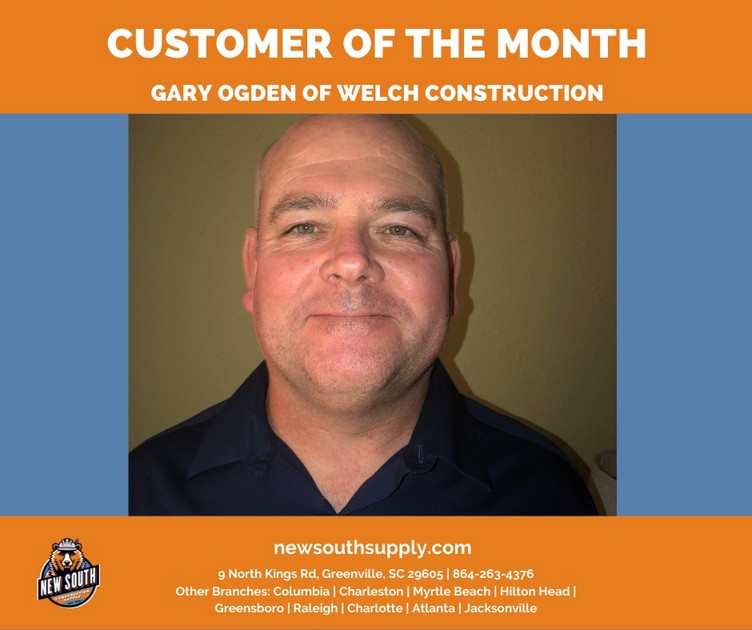 In this month's segment of "Catching up with our Customers," we highlight Welch Construction, whose office in Myrtle Beach focuses on Concrete and Masonry in the Commercial Construction industry. We interviewed Gary Ogden, who is the Myrtle Beach office's Division Manager and who works closely with New South Construction Supply when it comes to our rebar and masonry accessory services.  Learn more about Welch Construction, Gary, the projects they're most proud of recently, and their commitment as a Certified Service-Disabled Veteran-Owned Business below.

"Catching up with our Customers" Q&A
Tell us about Welch Construction, its history as a company, and the main services offered.

Welch Construction was established in 2000 and currently has two offices, the corporate office being based out of Marcellus, NY and the other in Myrtle Beach, SC. In our 20+ years in business, we have served as General Contractors, Construction Managers and as Design Builders, however in the Myrtle Beach office, the company focuses on concrete and masonry – all commercial. I (Gary) work at the Myrtle Beach branch where I am the Division Manager.

What projects are you most excited about right now and why?

Overall, we have been very, very busy and there is a lot of exciting work going on. One project that is very exciting is a project we are doing in Georgetown, SC – Envirosep – it is a 74,000 sq. ft. metal building where we are doing the concrete  – the footers, the grading and the slab, and we have poured 4,000 yards of concrete in total. New South Construction Supply has provided the rebar and wire mesh for this project. We are also proud of a massive Kohl's retail building we are working on in North Myrtle Beach as it is such a big project. We are grateful to do a lot of variety in the commercial work we do – everything from retail to banks to assisted living to schools.

We are a Certified Service-Disabled Veteran-Owned Business, so we also do a lot of government work like working with VA's (Veterans Affairs) buildings. We did the new VA in Charleston and Myrtle Beach, and a lot of us at Welch Construction are veterans, myself included (Marine Corps), as well as our customers, so it makes our work even more meaningful.

What areas does your company mainly serve?

The company is headquartered in New York state, but the Myrtle Beach, SC office covers most of the South Carolina and North Carolina coast.

How are you different from your competition?

We are known for expediting jobs as a concrete and masonry company and we usually beat deadlines. We are also different as we can give concrete and masonry as a package deal, so people do not have to work with multiple businesses. It is a huge benefit for our clients that we do both the foundation and the concrete work. Ultimately, we are a one-stop shop. The other thing is too, if we go out there to pour the footers and our masons lay the blocks, it's a smooth process without issues, and General Contractors love this. Sometimes competitors will say you have to do one or the other, but that is not the case.

What are your core values when it comes to business?

To me, quality, safety and expediting jobs are crucial and most important to me.

Any predictions for the construction industry and as we look into 2022? (As it relates to your line of work/region)

I think it will be the same as 2021 for the most part. Everyone is having price increases and labor shortages, but everyone seems to be used to it now and it is expected, and clients will ultimately pay for the services they need to build.

What do you buy the most from NSCS? Any branch and NSCS associate you work with the most?

On the concrete side, I purchase rebar from New South and on the masonry side, masonry accessories. I work with Clint at the Myrtle Beach office.

What should others know about NSCS that they may not know? The thing I like about NSCS is the salespeople are great – Clint, my sales rep, is awesome to work with. He is efficient and gets back to me with pricing quickly, and the rebar shops are great and easy to read in the field. I like that I can call Clint any day, any time, and he is always on it. We talk about two to three times a week, easily.
What is the easiest way to get in touch with you or if someone wants to learn more about your business? Email, gogden@welchconinc.com, my cell phone, 843-283-9623, or the office phone in Myrtle Beach, 843-839-0151.