Catching Up With Our Customers: Superior Masonry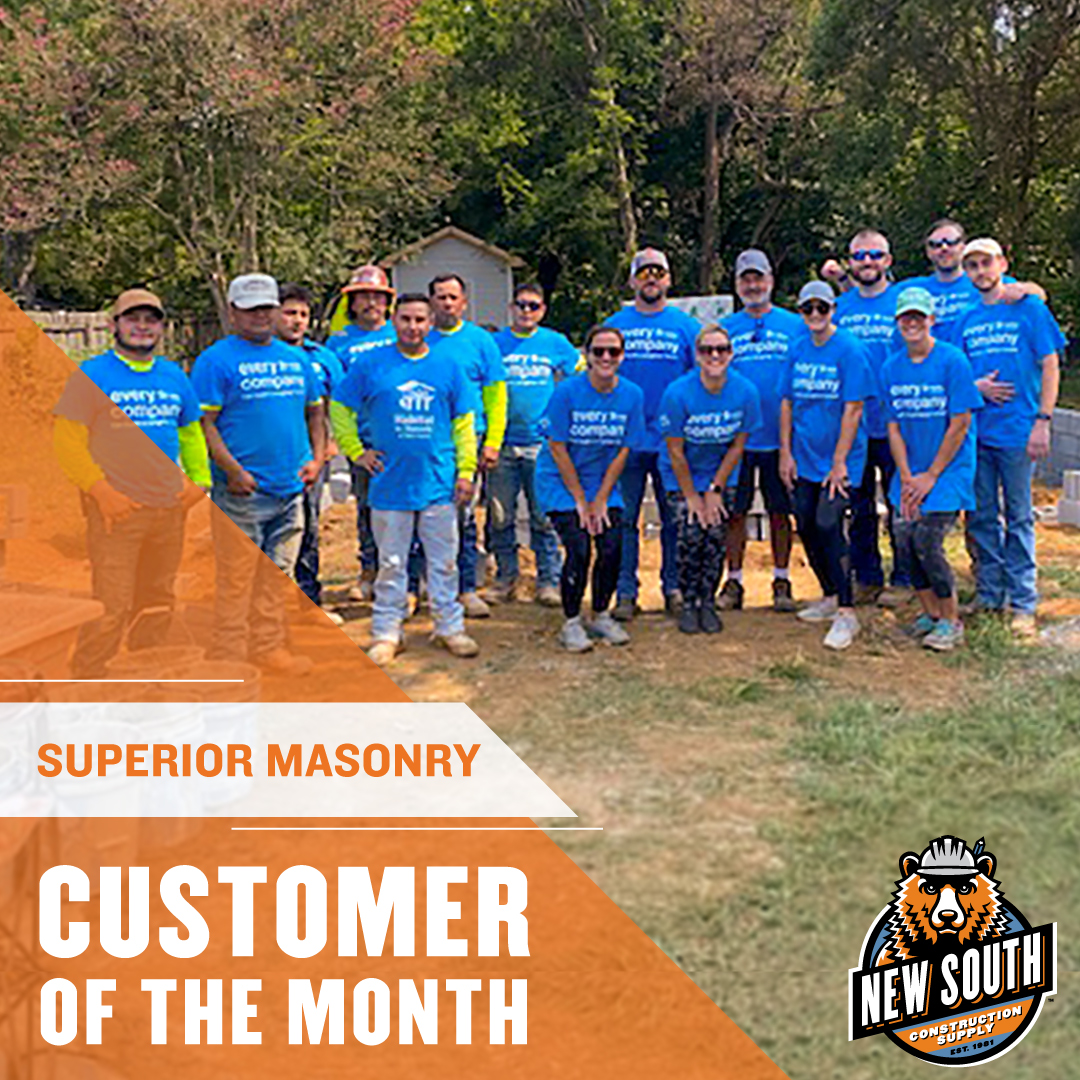 This month, we are catching up with the team over at Superior Masonry, based out of Fort Mill, South Carolina. Superior Masonry Unlimited, Inc was incorporated in South Carolina upon an acquisition in 2002, and under its leadership, the company has grown to its current output of keeping six, sixteen person crews busy. Their goal is to have eight crews consistently busy by the middle of 2023. Specifically, Superior specializes in high production masonry installations such as apartments, student housing, retirement housing, hotels, medical office buildings, warehouses and more. To learn more about them, read below.

"Catching up with our Customers" Q&A
Tell us about Superior Masonry, its history as a company, and the main services offered.
Superior Masonry Unlimited, Inc was incorporated in South Carolina upon an acquisition in 2002. The acquisition consisted of one crew, one upcoming project, and a paper estimating system. Due to Superior's good reputation and the CEO Paul's Irwin's) extensive contacts, work was easy to find. By 2008, Superior had two crews working full time and Paul took on a partner, Jesse Lanter. After a challenging recession, Paul and Jesse grew the company to its current output of keeping six, sixteen person crews busy. Our goal is to have eight crews consistently busy by the middle of 2023.Superior specializes in high production masonry installations such as apartments, student housing, retirement housing, hotels, medical office buildings, warehouses, etc. We have significant bonding capacity, are fluent in Davis Bacon and Section 3 procedures, and are a Service Disabled Veteran Owned Small Business.We have large traveling crews, typically 16 men, and do not hire from the local workforce. You will see the same crew leader and forklift driver wherever your job is .The Superior Team has a preconstruction, purchasing and operations department, in addition to a wealth of senior-level team members. This allows us to thoroughly review and debug each set of plans prior to masonry commencement. Clash detection and accuracy is what our customers commonly thank us for. Our focus is to ensure that when our crew gets to the job, all masonry work runs efficiently so our customers' schedule is met. We consistently receive feedback that our estimates are VERY detailed and ALWAYS competitive, being within a few percent of other qualified masons.

How did you get into this business?
The original sole principal, Paul Irwin, was in the multifamily industry, working for both general contractors and developers, rising from Assistant Superintendent to Senior Project Manager in 25 years. Over the years, Paul worked with Superior in the field, and subsequently awarded them numerous projects as Project Manager. When the owner of Superior announced his plans to retire, Paul, knowing the dependability and quality of work that Superior offered, jumped at the opportunity to acquire the company.
What projects are you most excited about right now and why?
We are just completing .408 Jackson, a state-of-the-art multi-family project in downtown Greenville, SC. This is across the street from the Greenville Drive baseball team's Fluor Field Stadium and on the site of Shoeless Joe Jackson's childhood home, .408 Jackson is a perfect example of historically responsible, well-conceived, apartment living. Our nearly completed Dockside project is another exciting project that offers off campus Clemson student housing in a beautiful Lake Hartwell lakefront development. Our most exciting project was constructing the foundation for a Habitat house in Rock Hill, SC this year, where our entire office staff learned how hard it is to lay block on a hot afternoon! 
How are you different from your competition?
Our range includes most of the Southeast, so when one market becomes saturated, we are able to seamlessly shift to another. Our large traveling crews bring the consistency that regional developers value in their sub team. Because we cover such a large range our crews must leave our projects with no remaining punch work on their last mobilization. Our customers love us!
What areas does your company mainly serve?
We work from Northern Florida to Virginia to Kentucky to Mississippi and further for our regular customers.
Do you have any big predictions for the construction industry for the rest of 2022 you want to share?
Work for the rest of 2022 is contracted and waiting for the masonry phase of construction to begin. 2023 is carrying contracted work through the middle of the year. Bidding multifamily projects remains strong and we expect to have most of 2023 booked before the end of this year. Apartment development generally continues through economic downturns because fewer families can afford single family homes due to high interest rates. Developers who have a strong investor base are able to raise capital rather than borrow at higher rates, keeping their proposed projects viable. We expect that, coupled with cheaper material costs and more dependable supply channels, due to less single-family demand, should fuel our industry well past the end of 2023.
What do you buy the most from NSCS? Any branch and NSCS associate you work with the most?
We buy all the necessary brick and block masonry accessories from New South Construction Supply — anything from mortar to flashing to wall ties. We work the most with Chris Daleus, Sales Manager for the Charlotte, NC branch. Chris is great to work with, always gets back to us as soon as he can, and makes our crews a top priority.
What should others know about NSCS that they may not know?
New South Construction Supply has a rebar fabrication shop – a huge plus for jobs requiring rebar shop drawings and bent rebar.