Catching Up With Our Customers: E&M Concrete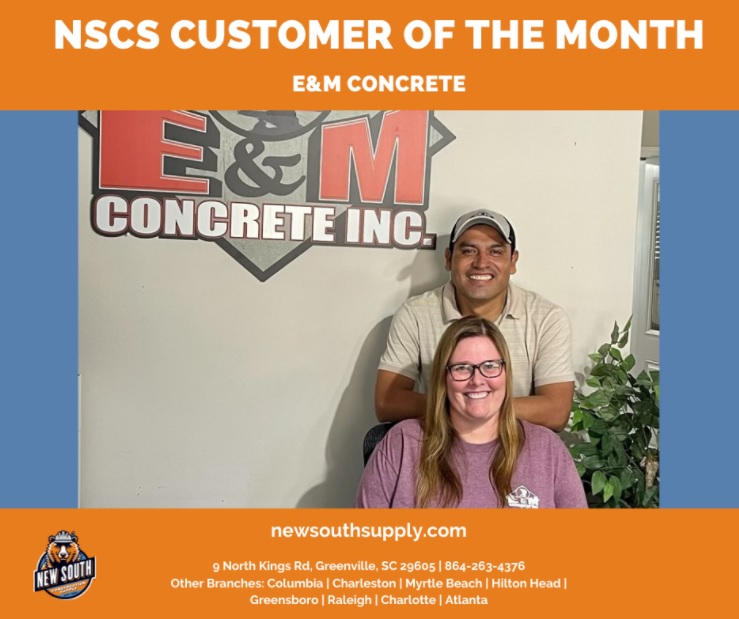 In this month's segment of Catching up with our Customers, we highlight E&M Concrete, a full-service concrete contractor that is built on a reputation for providing quality craftsmanship at affordable prices. Located in Fuquay-Varina, North Carolina, the company is focused on helping customers get the job done effectively, no matter how big or small, and most importantly, with superior detail and craftsmanship. Discover more about their business, the areas  they serve, how they help the community, and more by reading the full Q&A.
Tell us about E&M Concrete, its history as a company, and the main services offered
Our business began in 2013, and E&M stands for Eduardo and Micke. Eduardo wanted to be able to provide quality work, which in his previous jobs was not able to do that, and I (Micke) run the business side to be able to make this happen. So with him in the field and me in the office and field, there is not a better team. We have over 40 employees now, and are able to offer  retirement and healthcare plans for our employees.
What areas does your company mainly serve? 
Wake, Johnston, Harnett Counties in North Carolina.
How would you say you're different from your competition?

 
The care and dedication as owners who care about their jobs and employees are like none other.
Do you have any advice for women getting into the construction business? 
Learn your trade first before becoming a boss, and also have a strong personality.
Your website discusses how you help veterans. Can you elaborate on this or other ways you give back? 
We give back tremendously to the community — we sponsor most all of the Latino soccer leagues, we offer private services to any law enforcement, veteran, firemen, EMS, etc., as we normally do not do homeowner jobs. We always donate all labor and materials to any Hero Home entity, and this year we have added the local high school as well.
Any predictions for the construction industry in 2022?

(As it relates to your line of work/region).
We live in a special place — North Carolina — and we can not build fast enough. We will continue to grow at a smart pace so as not to take on too much that would risk our quality.
What do you buy the most from NSCS? Any branch and NSCS associate you work with the most? 
Insulation, anchor bolts, expansion joints, just to name some. Jim Sobeck knew us from the concrete industry and reached out to work with us which I am very thankful for. I have had the pleasure of working with and watching New South's A.J. Mozingo grow within New South Construction Supply, and he is a big reason I continue to buy. He has the same work ethic and care for his customers as we do for ours!
What should others know about NSCS that they may not know?
They care about the customers, and if I remember correctly, I received a call from the owner asking how things are going and what they can improve on, and that spoke volumes to me.
What is the easiest way to get in touch with you or if someone wants to learn more about your business? 
The www.theconcreteladync.com, and my phone number (919-235-7221), is still to this day on the side of every truck we have, so people with both good or bad comments can reach the owner and not an office — this was very important for me.