INTRODUCING:
"

Catching up with our Customers

"
INTRODUCING: "Catching up with our Customers"
New South Construction Supply is proud to launch "Catching up with our Customers", a new monthly series where NSCS will highlight our featured customer of the month on our newsletter, website and social media communities. Here at New South Construction Supply (NSCS), we are invested in ensuring our customers are satisfied and are taken care of. Whether our customer is a small, local business or a large, national company, we run our business for the convenience of all customers — not ours. We look forward to hearing your feedback on this new series and welcome any recommendations for the next customer of the month.
Setting Goals and Following Through
Meet NSCS Customer Victoria "Vicki" M. Simpson, Owner of Capitol Decorative Concrete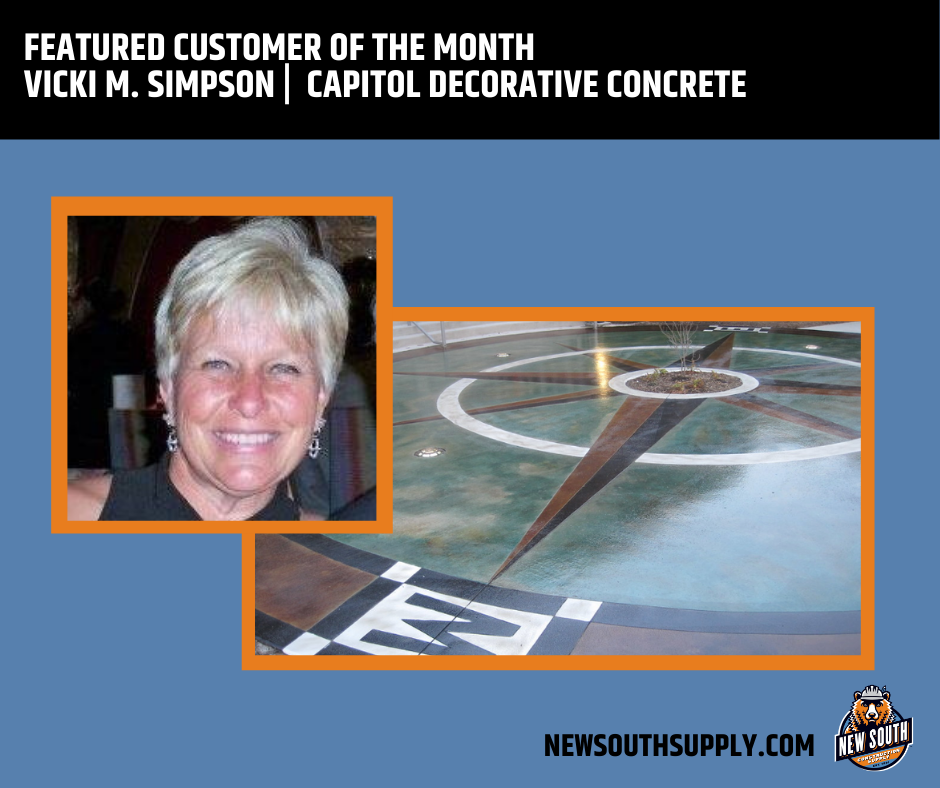 A Mill Village, piano performance and concrete construction: have you ever heard these three phrases in the same sentence? Chances are, probably not unless you know Victoria "Vicki" M. Simpson, the owner of Capitol Decorative Concrete.
Vicki is a long-time New South Construction Supply (NSCS) customer who buys decorative concrete color, stains, sealers, stamps, and other products from NSCS that allow her to take plain concrete and make it into an incredibly creative and perfect work of art. She works every day with the vital help of Dean B. Nash, in which she cannot do all of her work without his integral help. With more than 30 years of experience in the decorative concrete industry, Vicki credits the skills she gained from her mill village and piano performance background with developing her into the leader she is today.
Vicki grew up in Greenville, SC in a close-knit mill village, where she first learned about pitching in, helping others and the importance of following through. "Everyone was like family", she said, and if her dad was out working and they needed something fixed at the house, no matter what, someone would come by and help resolve the problem at-hand. "Neighbors would follow through to ensure the family was taken care of — everyone looked out for each other". Vicki's mill village childhood, mixed in with growing up playing piano and attending North Greenville University for Piano Performance, shaped her into learning the valuable lessons of discipline, perseverance, and creativity — and most importantly, setting a goal and following through with it.
Fast forward to 2020, Vicki is now one of the nation's top leaders in decorative concrete. For the past three years, her business has won the Grand Prize for Decorative Concrete at the World of Concrete from Sika/Scofield, the largest manufacturer of decorative concrete products.
Implementing a hands-on approach, Vicki is on every job site and cares greatly about the work product she is producing, especially since you only get one chance to do the concrete job right. When she's not on-site, she's waking up daily at 5:00 am to start responding to emails, getting out bids and working with customers. If Vicki doesn't embody the #KnowHowCanDo spirit we expect of all our associates, we don't know who does.
We invite you to read the full Q&A below to learn more about Vicki, Dean and Capitol Decorative Concrete. You can email Vicki if interested in working with her, and her extensive portfolio is found by visiting her Flickr account. Estimates are always free, and she will meet with her customers in-person or over the phone — whatever is easiest for them.

READ THE FULL NSCS Q&A:
NSCS: How did you get started in decorative concrete?
Vicki:  "I had a turning point after having children and I thought to myself, do I stay at Michelin [where Vicki was a paralegal for years], or do I do something else? I started keeping books for my brother-in-law, and his son had bought a distributorship for a decorative concrete company. That led into starting an office job to manage the decorative concrete books of what they did. I worked for my nephew's company for seven years. I worked within every aspect…contracts, to sales, to meeting the crew and concrete truck, and then that led to actually doing the work. I eventually ended up starting my own business (with their permission, of course), and I also pride myself in having built up a full, new book of business when I started back in 1998."
NSCS: What do you like about your industry?
Vicki: "Each day doing decorative concrete — you make a difference in the world because it is instant gratification. I like to think there is a piece of decorative concrete that will be in the southeast longer than I am going to live, and that is neat to think about. I am on every job, not just as an overseer but as an installer. We are a crew of two [at Capitol Decorative Concrete]. I have never been afraid of a lot of work, I just want my quality to stay in place so I am proud of everything I do."
NSCS: Can you explain more about the decorative concrete business, and if you have a "signature" thing you do?
Vicki: "Every concrete pour is different, and the stain has everything to do with how the concrete was poured. My biggest thing is to take pride in my work, so if someone sees it, they will want to buy it. I also love good competition, because the more people want decorative concrete and there's multiple bids from companies, the better it is for my business. However, when there is a company where there's been a bad concrete job, it can turn bad really quickly, and that is what hurts the industry. I always have had the philosophy, if someone has a problem, you need to address it ASAP. I will always ask "what can I do to make it better?", because all it takes is one bad job, and for me, my reputation is everything. It goes back to my philosophy to be the person that when they call you, you will follow through."
NSCS: Where can decorative concrete be used? Do you work with both commercial and residential clients?
Vicki — "We do both residential and commercial — and a lot of restaurants in particular. Our projects can be both inside and outside. Some past commercial clients include McDonald's (we do a lot of their stores), Clemson University, Fatz Cafe and Copper River Grill. We recently also completed a project at the Sassafras Mountain Observation Tower. At the Observation Tower, we used brown and black colors, as they wanted it to fit in with nature and have personality. At the top of the Observation Tower, we were also asked to do concrete art with a sunburst where people can identify NC, SC, etc. We worked with the architect on this project so that the state line goes in between the concrete art as well. It is a beautiful, big structure that with the concrete art, also feels more toned down and blends in with nature. Overall, concrete art like this is becoming our signature, and we do everything so the products will last. I use the same sealer all the time from NSCS."
NSCS: Why do you like working with NSCS?
Vicki: "It is such a pleasure to work with NSCS. There is something about walking in the door and the people always being friendly…they are always "Johnny-on-the-spot" and they will always ensure I get what I need. I find they are always jumping in to help me. Not only does NSCS deliver on promises, but they will also go to bat for you. It's important to remember that as a business, we are not in this alone, and NSCS is always right there asking "what can we do to help you?" I also remember two years ago, I won an award at the World of Concrete, and all the NSCS guys there showed up to cheer me on when I won my award — it really meant a lot to feel backed by others in your success. I also have to mention Suzanne Godwin [NSCS Director of Credit Services] and the NSCS accounting department — they are all so accommodating and helpful."
NSCS: Any last words or a piece of advice for our readers?
Vicki: "If I had advice for anyone getting into this industry is to do what you love — life is so short and so uncertain, and when you get up each morning, you should do what you love."