Catching Up With Our Customers: Lithko Contracting, LLC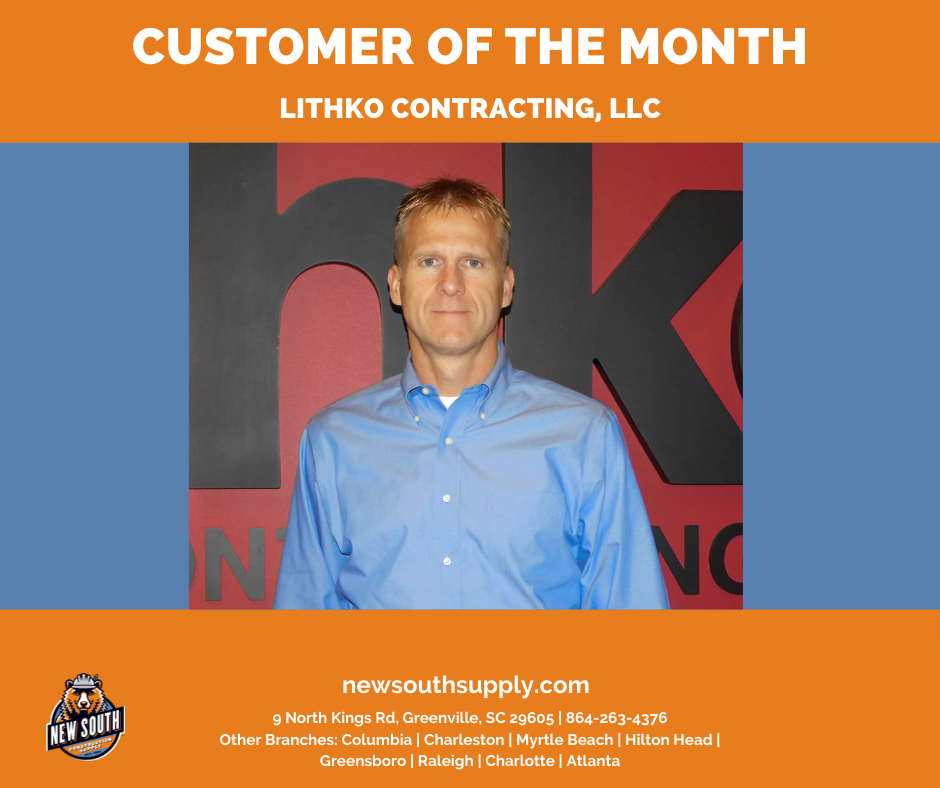 In this month's segment of Catching up with our Customers, we speak with Rob Strobel, President at Lithko Contracting, LLC. Lithko was founded in the 1990s after a group of concrete construction professionals sought to disrupt the concrete industry by creating a company with a close-to-home strategy in mind. Since then, Lithko has become one of the country's largest concrete contractors, earning them the #2 spot on ENR's Top Concrete Contractor list for the last 4 years. Read the full Q & A below to learn more about how Lithko differentiates themselves from competitors, a few incredible projects they are excited about, and their company mission that is focused on excellence.
Tell us about Lithko Contracting, LLC, its history as a company, and the main services offered

Lithko is one of the country's largest concrete contractors, earning us the #2 ranking on ENR's Top Concrete Contractor list for the past four years. Whether it is a small commercial building, a large warehouse, or a multilevel structural building, we can build it! We have experience in placing more than 40 million square feet per year of slabs, tilt-up, and precast.  Our expertise in placing and finishing floors to high tolerances in all kinds of weather allows us to meet schedules, quality standards, and cost parameters in a safe and efficient manner.Formed in the early 1990s, a group of concrete construction professionals had grown weary of the constant travel their jobs required. Being away for extended periods of time put strain on their families, friends, and quality of life. Seeking to make a change and identifying an opportunity to disrupt the concrete construction industry, Lithko was founded. Focusing on a local close-to-home strategy, Lithko created an unparalleled concrete construction company, offering careers in construction that don't require regular travel.

What projects are you most excited about right now and why?

We are excited to be working on a number of innovative projects that implement new technology, including voided slabs on a large medical facility in Columbus, Ohio.The Centene project in Charlotte, North Carolina, has an abundance of unique features that allowed our teams to hone their creativity and technical expertise.

The most difficult engineering feat on the project is the forming and stripping of three cantilever slabs where the largest cantilever extends 60'.  With 6-8 floors of the building on top of these cantilevers, heavy back shoring was needed and must remain in place until the building is topped out and the structural steel bracing is installed. The removal of this shoring will require the use of hydraulic jacks to raise the entire structure off the supports and then release the entire building when stripped.  The expected deflection of the cantilever is upwards of 2".

Over 100,000 square feet of architectural walls will be cast with a formliner, which will display a wood grain pattern. All these exposed form-lined walls will be placed with self-consolidating concrete. A portion of these walls will have a form lined finish on both sides, requiring insulation to be placed inside the wall. Utilizing techniques used in tilt up design, we will achieve this by two separate pours, securing the insulation in place before the second placement.

Learn more about this impressive project!   https://lithko.com/news/project-feature-centene-in-charlotte/

Lithko also works on many distribution center and warehouse projects, including one of Lithko's largest distribution centers, Project Night. It is 2.9 million square feet and there will be a total of 122,000 cubic yards of concrete on the project.
While warehouse structures may seem similar to each other, they can vary by size, floors, and walls, including large joint spacing, low curl proprietary floors, insulated tilt, and super flats. Currently, these projects are a crucial part of the economy that we are able to help support.
Any favorite previous projects that come to mind? If so, tell us about them

The Gardendale tower and garage project in Nashville stands out. A large ecommerce company will be using this space as a data center, and we're pleased to be part of the job. Lithko Nashville's scope on these structures includes mat foundations, pier caps, grade beams, columns, four concrete cores, slab on grade, PT pan decks, slab on metal decks, misc. crash walls and closure walls. The tower cores are 25 levels, approximately 140,000 square feet of 2'-0" thick concrete core walls. Additionally, the cores will have 4,900 cubic yards of concrete and 600 tons of rebar.

What areas does your company mainly serve?

Lithko operates 20+ BURGS (Business Units Running Great), servicing 35 states from the Carolinas to Utah.
Check out our Lithko locations! https://lithko.com/locations/
How are you different from your competition?

Deliberate employee engagement and building relationships set us apart from our competition. We value input from every coworker and make planning and safety an essential component of each day's work. Our teams also enjoy spending time together outside of work, including baseball games, golf events, family picnics, and more.

What are your company's core values?

We continue to cultivate our well-known and respected reputation as a leader in our industry.
We intentionally focus and select work that is aligned with our strengths.
We attract, build, and retain top talent and we make sure they are ready, willing, and able to succeed.
We run the Lithko programs, track our progress, and replan to consistently meet or exceed expectations and deliver great results.
We understand the needs and expectations of our various stakeholders, and we collaborate effectively with them.

Do you have a company motto?

It is our mission to be the recognized leader in concrete construction with the most engaged, prepared, and capable coworkers who consistently deliver excellent outcomes for our customers, partners, and communities.

What do you buy the most from NSCS? Any branch and NSCS associate you work with the most?

 Our Greenville and Charlotte BURGs purchase the most with NSCS. We buy mostly lumber and mesh.  NSCS is currently providing materials for a large warehouse we are working on in Ridgeville, SC.
What should others know about NSCS that they may not know?

Since NSCS is regionally organized, they are a beneficial partner for our Southeast region. Their jobsite responsiveness is exceptional. They are extremely approachable and relationship oriented. They have a culture of continuous improvement.

What is the easiest way to get in touch with you or if someone wants to learn more about your business?