New South Construction Supply Named a '2021 Best Places to Work in South Carolina'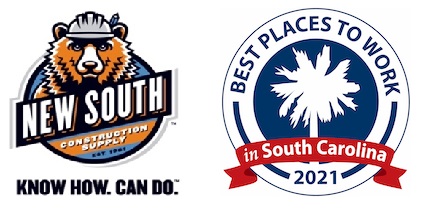 For Immediate Release
Contact: Jillian S. Whalen – Sobeck Studio
864-567-1169
jillian@sobeckstudio.com
New South Construction Supply Named a '2020 Best Places to Work in South Carolina'
July 29, 2021 (Greenville, SC) — New South Construction Supply, LLC (NSCS) has been named one of the Best Places to Work in South Carolina in 2021. This sixteenth annual program was created by SC Biz News in partnership with the South Carolina Chamber of Commerce and Best Companies Group. This is New South Construction Supply's fifth time winning this award.
This survey-and-awards program was designed to identify, recognize, and honor the best employers in the state of South Carolina, benefiting the state's economy, workforce, and businesses. The 2021 list is made up of 81 total companies. Companies entered the two-part survey process to determine the Best Places to Work in South Carolina.
To be considered for participation, companies had to fulfill the following eligibility requirements:
be a for-profit or not-for-profit business or government entity;
be a publicly or privately held business;
have a facility in the state of South Carolina;
have a minimum of 15 employees working in the state of South Carolina; and
be in business a minimum of 1 year
Commenting on this, Jim Sobeck, CEO of New South Construction Supply said, "It is very gratifying once again to have our company chosen as one of The Best Places to Work in South Carolina. As a family-owned business, we strive to create a quality workplace with a family atmosphere. Our management team focuses on how to enrich the lives of our associates so that they feel they have a career, not just a job. No matter how many times we win this award, it is a thrill every time."
The ranked companies will be recognized at an in-person awards ceremony on August 5, 2021 at the Columbia Convention Center. The rankings will be published in the August 2021 issue of SCBIZ magazine. For more information, visit www.BestPlacesToWorkSC.com.
About New South Construction Supply
Founded in 1981 and celebrating its 40th Anniversary in 2021, New South Construction Supply is a distributor of construction products to general contractors and subcontractors across the Sunbelt as well as nationally and internationally. The company specializes in concrete and masonry accessories, rebar and wire mesh, tilt up construction, waterproofing materials, and many other construction products for both commercial and residential construction projects.
The main office, and a branch, is in Greenville, SC, with branches in W. Columbia, Charleston, Greenville, Myrtle Beach and Hardeeville (Hilton Head/Savannah area) SC; Charlotte, Greensboro, and Raleigh, NC; and Atlanta, GA. For more information on New South Construction Supply, visit www.newsouthsupply.com.