Catching up with our Customers: Pride Masonry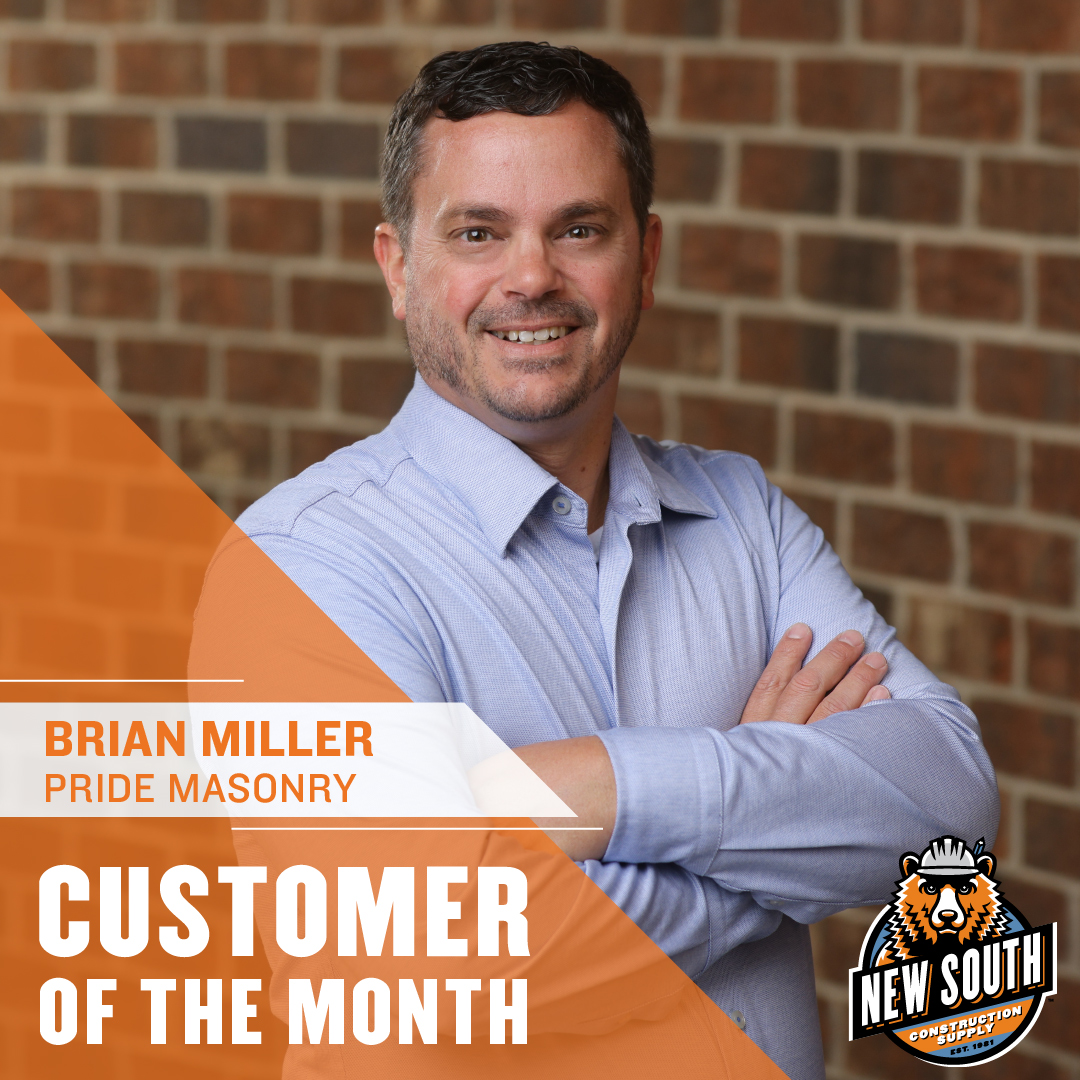 This month, we are catching up with the team over at Pride Masonry, based out of Spartanburg, South Carolina. Pride Masonry was established in South Carolina by James Davis, who retired in 2016, at which time he entered a buy/sell agreement with Brian Miller. Their preconstruction department has three phenomenal estimators with over 100 years of experience. In the field, they have nine crews and a dedicated maintenance/renovation division. To learn more about them, read below.

"Catching up with our Customers" Q&A
Tell us about Pride Masonry, its history as a company, and the main services offered.
James Davis established Pride Masonry in 1998 with a primary focus on the commercial and industrial markets. In 2016, James and Brian Miller entered into a buy/sell agreement, and James retired in 2020. As we have grown over the years, our primary focus has been and continues to be turnkey CMU, brick, cast stone, and natural stone veneers. Our preconstruction department has three phenomenal estimators with over 100 years of experience. In the field, we have nine crews and a dedicated maintenance/renovation division.
What projects are you most excited about right now and why?
Bridgeway Station is the most unique and challenging project we have currently underway. We have been tasked with recreating veneer and details that replicate old world Italy. It is a true design/build in the sense that we are designing it as we are building it. This project is unlike any other project ever seen in the Upstate. We are blessed and honored to be a part of this project.
What areas does your company mainly serve?
Our core business has been concentrated in South Carolina and Western North Carolina.
How is Pride Masonry Different Than Your Competition?
It is our people who have made us unique. We have phenomenal employees who care about their work and their clients. It is an honor to work alongside them and support them on some of the most complex projects in the commercial and industrial markets. We strongly believe that we are leading the way when it comes to innovation. We are the first in the region to purchase and utilize Mules by Construction Robotics and what this investment will do for our workforce. I also believe that as we continue to lead with augmented reality, that this will change not only our industry, but have a real impact on other industries as well.
Do you have any predictions for the construction industry for the rest of 2022 and going into 2023 that you want to share?
Managing of supply chain issues across all disciplines is going to be the challenge for the foreseeable future.
What do you buy the most from NSCS? Any branch and NSCS associate you work with the most?
Our purchases have been focused on masonry accessories and rebar. We work extensively with
the Greenville, SC branch and Cory Nicks.
What should others know about NSCS that they may not know?
The depth of experience that the NSCS Associates have is unmatched in our market – they will bring the resources we need for a client. The internal rebar division has been extremely beneficial in supporting our needs.