Catching up with our Customers: Scott and Tony Griffin of Griffin Masonry Inc.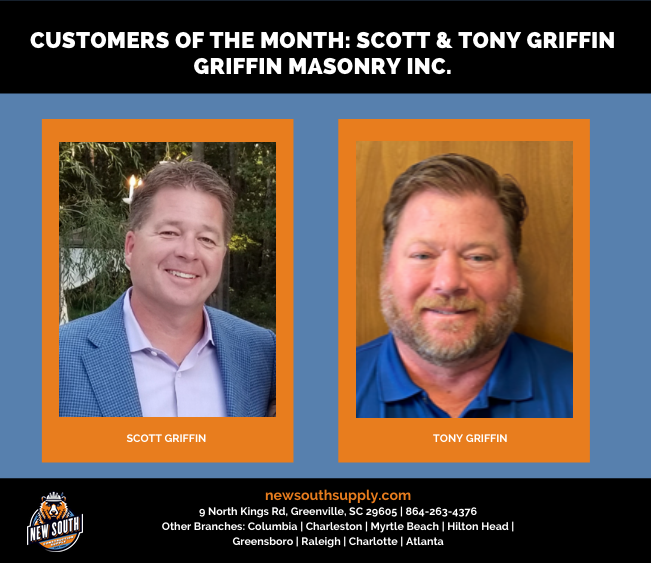 Scott and Tony Griffin of Griffin Masonry Inc. are this month's featured customers in our Catching up with our Customers series. New South Construction Supply has worked with Scott and Tony for years, and their business of 25 years prides itself on providing the absolute highest quality in products, customer service, and craftsmanship in the marketplace.
During our Q&A, Scott and Tony detailed how they focus on the vision and future of the company daily, and that their culture is to challenge the norm and seek to improve. Whether their clients are a first-time homeowner or a local celebrity building a dream mansion, Tony and Scott pride themselves on treating every job equally, and are honored to help everyone build their home. Griffin Masonry also excels when it comes to more difficult jobs, and that is due to the skill of the workforce they have.
Read the full Q&A with Scott and Tony below, and learn more about their business by visiting www.griffinmasonry.com.
Full Q&A with Griffin Masonry
Catching up with our Customers #6
Tell us about Griffin Masonry, its history as a company, and your main services.
Griffin Masonry was founded in 1990 as a Residential Masonry Contractor by Scott and Tony Griffin. The home office is in Mint Hill, NC where Tony and Scott grew up and still live to this day.
We opened the Raleigh, NC division in 2005 offering all of the same services there as we do in Charlotte. All of our services are turnkey services (both concrete and masonry related). This includes:
Residential Masonry
Poured in Place Concrete Basement Wall
Residential Concrete Flatwork
Commercial Concrete Flatwork
Residential and Commercial Footings
Structural Foundation Pilings
Commercial Masonry
Metal Decking and Structural Steel Lintel Installation
What else should others know about Griffin Masonry and what does a typical day look like?
We focus on the vision and future of the company daily. We have a great management team that shares our vision and mission of an employee centered approach to management. Our days start early around 5:30 and can end late in the day or evening. Long days are not necessarily out of necessity but out of passion and enjoyment.
Tell us two fun facts customers, friends and work associates may not know about you both.
Tell us 3 fun/interesting facts customers, friends and work associates may not know about you both.
I think it is interesting that smells play an important role in most of my memories.  Many of those are job related smells.  From my first experiences on the jobsite I enjoyed the smell mortar being mixed.  This led to a passion for that 20% of the wall (the mortar). Whether it is the tooling, the strength or the workability we have always placed tremendous importance on mortar. This led to the creation of Longleaf Packaging.  Next, we have shared an office for 30 years.  Last, we have a passion for developing and training All Age Field Trial Birddogs. The first and most important characteristic we look for is A GOOD NOSE!!
What areas do you work in? What excites you both about the work you're doing there?
Charlotte Metro, Raleigh Metro, Greensboro, Upstate SC and Western NC (Asheville, Boone).
What drives us the opportunity to work with different contractors and challenge of different jobsite conditions. It also gives our team the opportunity to grow and experience new challenges. We feel that the processes GMI has developed helps to grow the overall industry while improving our company through always challenging the team with growth and improvement.
GMI's Raleigh office has been very instrumental in the success of GMI. We have a great team in the Raleigh market. The reputation they have built in that market is something that we are all very proud to be part of.
What is your work background?
Our dad is a local business owner in the Fuel Oil business. I would credit most of our work ethic and business philosophy to him and our mother. They worked together in a successful family business and still made time to raise a family. They didn't tell how to treat people and run a business, they showed us how to treat people and run a business. That was and still is a lifetime of the best background we could have had.
GMI is our only full-time job we have ever had. We feel very fortunate to have found a job in an industry that we both love. Most of our early years were strictly residential masonry construction. In 1994 we started doing more concrete work including basement walls and slabs. Currently about 50 % of our work is concrete related.
How are you different from your competition?
We feel our competition is only the masonry alternative building products. We strongly believe that masonry and concrete are the most superior building products in the world and every other product is the competition. Our vision is to grow masonry wall share in the residential market by providing the lasting value of masonry for the homeowners and the communities/towns that we serve. We were drawn to the industry by the idea that what we build is permanent and truly has the ability to last generations.
We have never evaluated ourselves against other companies, we constantly evaluate ourselves against the best that we can possibly be while constantly seeking to improve every part of our process. Our culture is to challenge the norm and seek to improve.
Tell us about 2-3 recent projects and what you enjoyed about them?
We instill that every job is important. Whether you are a first-time homeowner or a local celebrity building a dream mansion, we are honored to help build your HOME. We do love seeing homeowners and architects use the strength and versatility of brick. Whether used on the interior or exterior, brick adds that warmth and character that no other product can. Some of our favorite places to visit are the old structural masonry cotton mills in and around charlotte that are being revitalized and turned into residential and commercial spaces. These projects prove that masonry stands the test of time and that given the chance can play a key role in building local economies.
How many employees do you have?
300 plus of the hardest working men and women in America
Why do you like working with NSCS?
New South's knowledge of the products and practical uses in the field add great value for us.  The business philosophies and commitment to service align perfectly with GMI. From our first meeting with Jim Sobeck many years ago we recognized his tremendous business acumen and have followed NSCS's growth and marketing strategy closely. As business owners it is invaluable for us to have partners that are forward thinking and place such confidence in the NSCS associates that service our business.
Any branch and NSCS associate you work with the most?
Chris Daleus out of the Charlotte, NC branch. Our Longleaf Packaging Company works with several of the other branches and associates.
What should others know about NSCS that they may not know?
That Jim Sobeck is a boots on the ground guy.