Catching up with our Customers: Mike Mattachione of Mattachione Construction, Inc.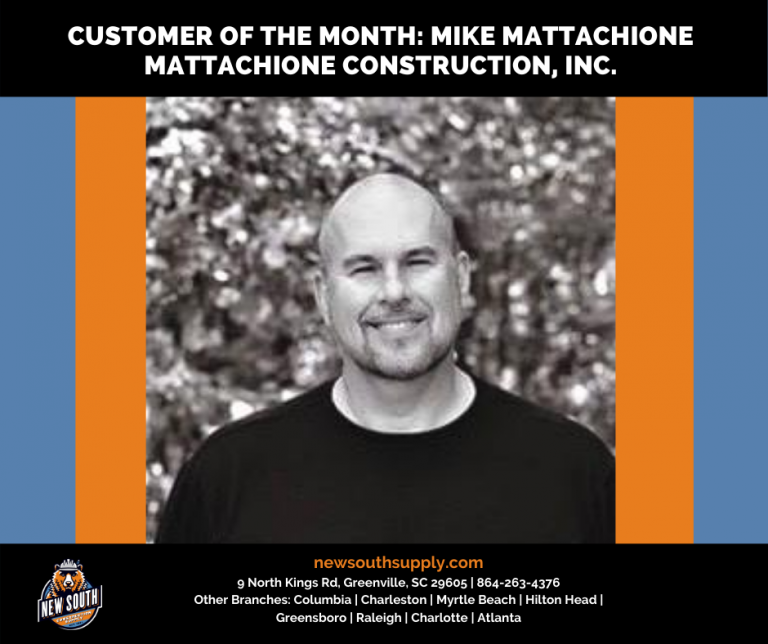 Meet Mike Mattachione of Mattachione Construction Inc., a New South Construction Supply customer based out of Apex, NC, who is this month's featured customer in our Catching up with our Customers series. Mike is CEO of this construction business that was originally founded by his father in Canton, Ohio. Mattachione Construction works across the Raleigh/Apex, NC region, where they focus on commercial and residential masonry projects. With more than two decades of experience himself, and the company being founded in 1947, Mattachione Construction prides themselves on being full service, turnkey masonry experts, no matter the size of the masonry or concrete construction project. The construction company has worked on all different types of projects, including industrial buildings, restaurants, hospitals, retail stores, apartment buildings and more. We invite you to read his full Q&A below.
Q: Tell us about Mattachione Construction, its history as a company, and the main services offered.
In 1989, Mattachione Construction, Inc. was established in North Carolina by myself, Mike Mattachione, as a family-owned and operated masonry construction company. I am a second-generation masonry contractor who studied engineering and business management during college. Due to the harsh winters in the north, I decided to relocate to North Carolina and start my own business, Mattachione Construction, Inc.
Q: What excites you about this industry and what areas do you serve?
We service the Triangle and surrounding areas with a focus on commercial masonry construction.  Our markets include retail, hotel, multifamily along with infrastructure and development as this area continues to grow. Diversity with our many resources allows us to accommodate many types of projects for our clients. Working with GC's from budgets to final completion is a satisfying outcome.
Q: What is your work background?
The roots of Mattachione Construction dates back to 1946 in Canton, Ohio by my father, Sam Mattachione. For over 60 years he was a master teacher of the masonry trade to many who now have their own successful masonry businesses. His extensive knowledge and skills of the trade will be passed onto many generations to come and his legacy lives on throughout our company.
Q: What should others know about NSCS that they may not know?
New South Construction Supply is a reliable, core vendor that offers us a variety of masonry accessories. Corey Moser is our primary sales rep in the Garner area. His prompt service and expertise on their products provides us the coverage we need to be competitive in the market. Over the years it has been a pleasure to work with New South and Jim Sobeck. The business practice model he has developed has led them to be a cutting-edge leader of the industry.
Q: What is the easiest way to get in touch with you or if someone wants to learn more?
For more information about our company visit our website — www.mattachione.com — or contact the office directly at 919-481-3434.