Catching up with our Customers: Teddy Acosta Lopez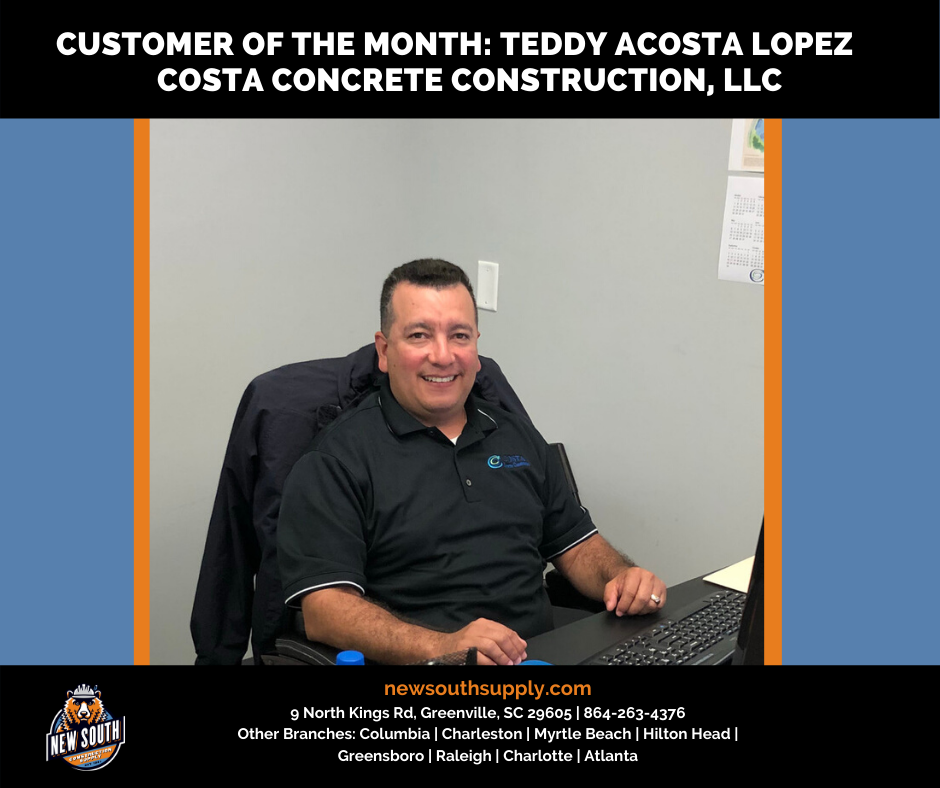 Meet Teddy Acosta Lopez of Costa Concrete Construction, LLC, this month's featured customer in our Catching up with our Customers series. Teddy is a loyal NSCS customer who has known his NSCS representative, Steve Melton, for over 20 years now.
Teddy and his company are busy as ever, especially during Covid. Starting in the business in 1999, Teddy always knew one day he wanted to have his own company. He ultimately found success by putting his head down, learning all the different parts of the job, and working his way up in the industry. Ultimately, this led to him the launch of Costa Concrete Construction in 2017, where he and his employees primarily work on residential home sites in the Lowcountry of South Carolina.
During our interview, Teddy explained how he loves a challenge, and when it comes to the concrete industry, Teddy first-hand knows there is no time to mess around, especially with the complicated and intricate jobs Costa Concrete Construction completes. When concrete takes off, it takes off, so doing the job right and on-time is critical to Teddy and his team.
And why New South? Teddy has worked with NSCS for years because of the customer service and delivery options. It is not always the price, rather it is more about the scheduling, the delivery, and the fact that NSCS will be there when you need it — even if that means working nights or weekends to get the job done.
Read the full Q&A of Teddy below, and see why he says "he pours his heart and soul into each and every day."
Full Q&A with Teddy Acosta Lopez
Tell us about Costa Concrete Construction, its history as a company, and what services CCC offers.
· Costa Concrete Construction, LLC was established in 2017 after a long career of working for another concrete company. We offer concrete construction of foundations, slabs, flatwork, masonry, tabby finish and stucco services.
What is your title and what does a typical day look like?
· I am the President & CEO. There really is not a "typical day" in the concrete business. However, my day starts with disbursing my crews with their job assignments; making my rounds to check on my job sites; answering calls and emails throughout the day, creating estimates for potential new jobs; creating financial reports and keeping up to date with my office staff.
Tell us 3 fun/interesting facts customers, friends and work associates may not know about you.
· I started my career in concrete with no experience as a laborer over 21 years ago.
· I love to spend time on the golf cart with my three children
· My "nickname", given to me by a friend, is "The Godfather of Concrete".
What areas do you work in?
· Currently, I do work in the following areas: Bluffton, Beaufort, Hilton Head, Port Royal, Ridgeland, and Jasper County.
What excites you about the Bluffton/HHI/Lowcountry area and the work you're doing there?
· I get excited with my projects because I get to start a family's dream home with the house foundation and usually on most jobs, I get to finish their dream home with custom masonry. I love the area and the private subdivisions that I get to work in around the coastal area.
What is your work background?
· I started out working for a company cutting lumber for construction of new homes.
I worked in a few other fields before starting in concrete in 1998.
What have you learned about sales and/or relationships along the way?
· I have learned that building solid working relationships are imperative to a successful business.
How are you different from your competition?
· I am different from my competition because I pour my heart and soul into each and every job and I treat each job as if I were building my own home
Tell us about 3 recent projects and what you enjoyed about them?
· The Wall Project – We have been working on this huge job for over two years. I have enjoyed working with the builder and the homeowner to ensure all of the concrete and masonry details are built to design.
· The Rowe Project – This project has been in progress for over two years as well. The amount of block and brick associated with this project is astounding. I have enjoyed watching this house being built brick by brick and all of the details involved.
· The Herring Project – this is the longest running project for Costa Concrete to date. I have enjoyed working with the homeowner and getting to know a little of the background as to why he chose the design from a historical house located in New Orleans.
How many employees are at CCC? Tell us about them.
· We have dedicated 10 employees that carry out the day to day operations that work alongside our many sub-contractors.
Why do you like working with NSCS?
· I like working with NSCS because they provide the level of Customer Service that many businesses look for and expect. They meet the material demands of my projects and never fail to meet my expectations.
Any branch and NSCS associate you work with the most at NSCS?
· The Hardeeville, SC (Hilton Head area) Branch
What should others know about NSCS that they may not know?
· NSCS offers different payment methods to include Automated Clearing House transactions that allow your payment to be posted promptly without a mail delay.
What is the easiest way to get in touch with you?
· Please contact my office at 843-645-6602.