Catching up with our Customers: Josh Beech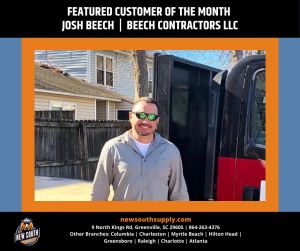 Meet Josh Beech – Owner of Beech Contractors, LLC, a general contractor company based out of Charleston, SC. Josh is a third generation builder, and he started Beech Contractors part-time in 2014 before taking his company full-time. Josh started the company as he kept getting the calls for work that nobody wanted to do. Suddenly, the market was booming and the demand couldn't be filled, so that's when the company started to expand. If you live in Charleston or follow NSCS on social media, you've probably seen or heard of the Low Battery Wall restoration project in Charleston, SC. Josh's company is spearheading this project alongside KBS Construction, and also works on many other important projects in the Lowcountry. Learn more about Josh and Beech Contractors by reading our full Q&A below.
Q&A with Josh Beech
Tell us about Beech Contractors and what it is you do/services offered? 
We are primarily a turnkey concrete contractor; the majority of our clients are repeat businesses that want to work with us. We often then end up doing additional scopes of work while we are on-site.
What do others say about Beech Contractors?
The typical feedback I get as the owner is, "If all of our subcontractors were like you, my job would be easy." We take a lot of priding in showing up, telling you what we're going to do, then executing on that. That fact, along with answering the phone or calling someone back, has gotten me far in this business. 
How long has Beech Contractors been around?
It was formed in 2014 – it started as night and weekend roles and then evolved from there. I kept getting calls for work no one wanted to do; the market was booming and all the demand couldn't be filled, so I started doing jobs at nights and on the weekends and it grew from there.
What areas do you work in?
The majority of our work has been in the greater Charleston and Bluffton markets. We've gone as far south as Tampa, FL and as far north as Norfolk, VA. We typically don't chase work that far away but we'll travel for our repeat customers.
How many employees do you have?
Currently we have around 40 employees and we have a list of people who want to come and work from us, which is great.
What excites you about the Charleston area and the work you're doing there?
I love the history and the culture that Charleston has to offer — it's a small city that hasn't lost its identity. As far as the work we are doing right now, there is so much to be excited about. We are part of the effort to rebuild and raise the over 100-year-old Battery Wall that protects the city from flooding. We also just finished our involvement with the renovation of the 100-year-old Sottile theater and then we started helping renovate a 300-year-old home — the oldest home in Charleston. I personally love building, so all of it is exciting, but we have been lucky to be part of some very impactful projects.
What is your work background?
I am a third generation builder — I knew how to operate an excavator before I knew how to drive a car. I have worked for large and small general contractors as well large concrete contractors. Before I started in construction, I thought I wanted to do something different so I became a computer science major in college. Then, a friend of mine encouraged me to take a construction management course and the rest was history.
What have you learned about sales and/or relationships since starting your own business?
We have an internal saying, "There are vendors and there are partners." We want to be a partner, and that doesn't always mean doing the most profitable thing, but in the long run it always comes back. Ten good references will not over come one bad one, so it's important to finish the job strong.
How are you different from your competition?
Our team makes us different. I take very good care of the men and women I work with every day and it shows in the product we deliver. We have clients that don't call anyone else for proposals; they know who they want to pour their concrete. Then we have the clients that call us and tell us "you're the only one that we think can do this." However, that's all made possible by the people that represent this company on a daily basis.
Tell us about some recent projects. Any favorites? 
The Low Battery Wall restoration project is one that I love being a part of, as its been there for over a 100 years and this one will be as well. To know that my great grandchildren could one day walk there gives me chills. We also recently started a cancer treatment addition with huge 7' thick walls. Any time a concrete guy gets to pour 7' thick walls, we get excited. It's also impactful for the people who will need the facility after we are done. Though they will never see our concrete, it's there and we were part of it. 
Why do you like working with NSCS? 
I don't know that I have ever been told "no" or "we can't do that". NSCS has stayed late to bend rebar for us on a Friday to deliver by 7 AM on a Saturday so we can make a pour. It's very hard to find that service everywhere. We try to be the same way, and that's only possible with partners that have the same attitude.
What should others know about NSCS?
I receive surveys asking what should NSCS be carrying that we aren't, and then a month later I'll go into a branch and suddenly see it on the shelf – that shows they hear the customer. One of my guys told me "I don't ever feel like he's trying to sell me anything, it always feels like he is trying to help me get the job done." That is what a partner is all about.
Any branch and NSCS associate you work with the most at NSCS?
I work with the Hardeeville and Charleston Branches the most, and Steve Melton is the call I make every time — he brings a new definition to the meaning of customer service.